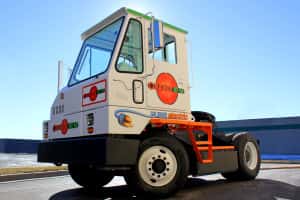 After a year of on-site customer trials with several companies, Missouri-based Orange EV has announced the first official sales of its T-Series all-electric terminal trucks. The company says it is filling an initial order from an undisclosed customer for its T-Series trucks, which are destined for manufacturing and distribution facilities in Chicago.
Â
The T-Series is a retrofit solution whereby Orange EV converts existing diesel-powered terminal trucks to pure electric, replacing the powertrain and control systems while refurbishing the rest of the truck to like-new condition. This conversion approach recycles and reuses the chassis and other durable components, eliminating waste and extending the life of the truck, the company says.

Orange EV debuted its T-Series with terminal trucks designed for off-road hauling in 2014 and expanded its offering with trucks designed for on-road use in February. The company says this initial order is for the off-road version.
According to Orange EV, terminal trucks serve a critical role helping streamline freight logistics and are known by many names, including hostlers, spotters, tractors, yard trucks, mules, yard dogs and shifters.
The company says its industry partners have invested significant time and resources to test and prove the T-Series across many terminal truck applications. Their effort is now paying off as customers buy and deploy trucks for commercial use.
In the future, customers may also have the option to buy new all-electric trucks offered through Orange EV's recently announced collaboration with Kalmar Ottawa.