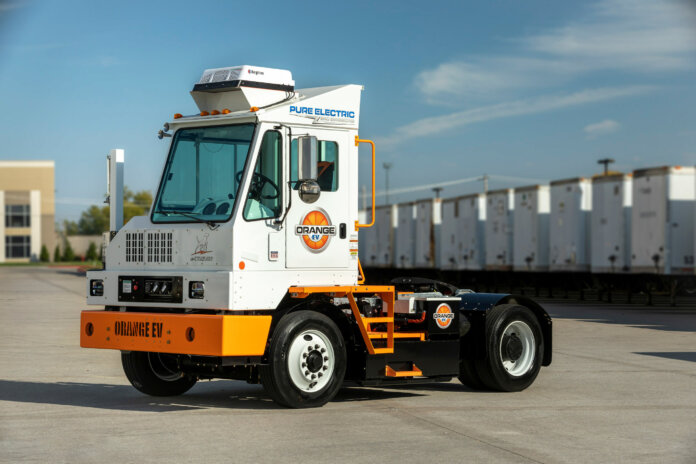 Orange EV, a heavy-duty EV truck manufacturer in the United States, is expanding into the Canadian electric yard truck fleet market.
Orange EV's Canadian expansion comes on the heels of recently announced plans to move to a larger U.S. production facility in Q2 of 2023, designed to accommodate the company's rapid growth and produce up to 1,800 terminal trucks per year in single-shift operations.
To head Canadian operations, Orange EV has hired Roberto Bragagnolo as its country general manager. He arrives at Orange EV after serving as GM of Finning, a large Caterpillar dealer, and previously spent two years with Export Development Canada involved in global trade across clean energy and advanced manufacturing. Bragagnolo devoted more than 23 years working for Siemens, rising from regional manager of Latin America to head of energy storage.
The company's Canadian division, Toronto-based OEV Canada Inc., recently became operational, and in addition to providing vehicles for purchase, will be providing in-country service and parts support.
"Orange EV has long anticipated this expansion in Canada, and with the company's proven presence in cold-weather markets such as Minnesota, western New York, and already in Ontario, it's a natural move that will benefit North American customers and the environment alike," states Bragagnolo.
"Orange EV's mission is to be a leader in the effort to positively impact climate change on a global scale, manufacturing heavy-duty EVs that are a superior financial and operational choice," comments Orange EV co-founder and CTO Kurt Neutgens. "Canadian fleets have been telling us they want to experience the Orange EV difference, and with $100,000-per-truck discounts through Canada's incentives for Medium-and Heavy-Duty Zero Emission Vehicles (iMHZEV) program now available, demand has rapidly intensified."