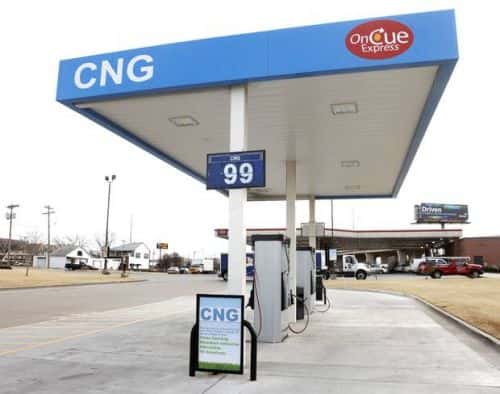 Thanks to last week's fiscal-cliff deal in Congress, the state of Oklahoma – one of the hotbeds of natural gas vehicle activity in the U.S. – is now the host of refueling stations that are offering compressed natural gas (CNG) for less than a dollar a gallon.
The Oklahoman recently spoke with Jim Griffith, CEO of retailer OnCue Express, who confirmed that the price of CNG decreased to $0.99/GGE at the OnCue station on NW 23rd St. in Oklahoma City.
'As soon as we could verify it, we immediately dropped our price,' Griffith told The Oklahoman.
The price drop reflects the extension of the $0.50/gallon federal alternative fuels excise tax credit, which applies to CNG, liquefied natural gas, propane autogas and other fuels. Some fleets can now also obtain propane autogas for less than a dollar per gallon.
KAUT-TV in Oklahoma City spoke with Josh Chapman from natural gas vehicle conversion company CNG of OKC: 'It's great for business,' he said. 'Ninety-nine cents a gallon, and normally you get a little better fuel mileage when you run on CNG, so you really can't beat that.'
Photo: Paul Hellstern, The Oklahoman