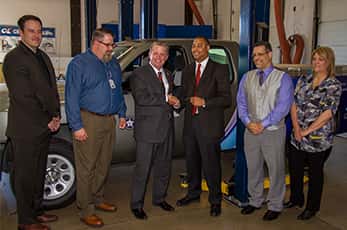 The Oklahoma Department of Labor (ODOL) has donated a compressed natural gas (CNG) truck to the Oklahoma City Community College's (OCCC) Professional Development Institute (PDI), which will use the vehicle as a teaching tool in the institute's alternative fuels program.
According to OCCC, it was one of the only community colleges in the U.S. to offer classes in converting vehicles to run on alternative fuel back in 2010. Now the PDI offers Oklahoma state certification for CNG and propane autogas automotive technicians, as well as other alternative fuels programs, such as CNG fleet management and safety operations.
John Claybon, director of the PDI, said these programs are already booked throughout June, and the truck will enhance the quality of the programs offered by the institute as it continues to grow.
As ODOL Commissioner Mark Costello handed over the CNG truck's keys to Claybon, he said he was very pleased with the relationship the ODOL had built with the PDI.
'The alternative fuels program is a path for both young men and women who seek a career that is long lived and beneficial to the ecology, the economy and the overall well-being of Oklahoma,' said Costello. 'I appreciate being able to cooperate with OCCC in this venture.'
Photo courtesy of Oklahoma City Community College