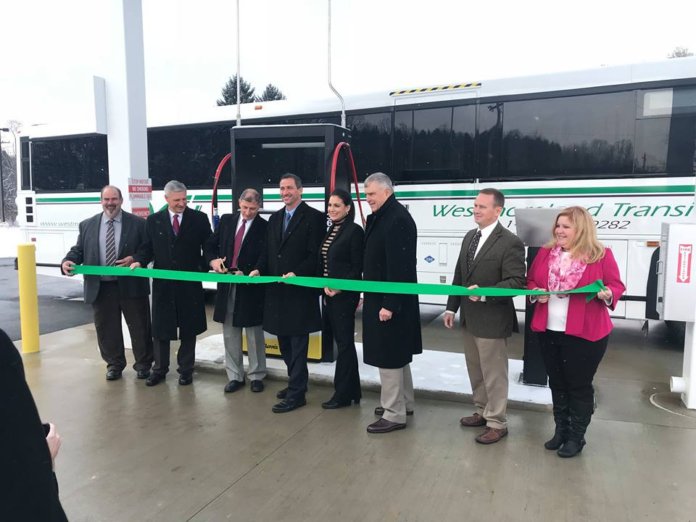 Pennsylvania's Wolf administration has announced the start of service at another of the 29 compressed natural gas (CNG) fueling stations already built or planned as part of a statewide Public-Private Partnership (P3) project.
On Thursday, Pennsylvania Department of Transportation (PennDOT) representatives and local leaders joined officials from the Westmoreland County Transit Authority and Trillium CNG during a ribbon-cutting ceremony for the new Westmoreland County facility, located at 1823 Business Route 66, Greensburg, Pa.
"This P3 CNG program continues to move forward and will make use of a Pennsylvania-generated fuel resource," comments Gov. Tom Wolf, D-Pa., in a press release. "The benefits include more efficiency, cleaner-burning fuels and lower fuel costs for our transit agencies."
Through the $84.5 million statewide P3 project, Trillium is designing, building, financing and will operate and maintain CNG fueling stations at 29 public transit agency sites through a 20-year P3 agreement. Other stations will be constructed over the next few years, and Trillium is also making CNG-related upgrades to existing transit maintenance facilities.
As part of the conversion in Westmoreland County, the local transit authority will convert 25 diesel buses and 16 paratransit buses to CNG. The authority estimates saving more than $400,000 annually based on current diesel costs and its diesel and gasoline usage of roughly 415,000 gallons per year.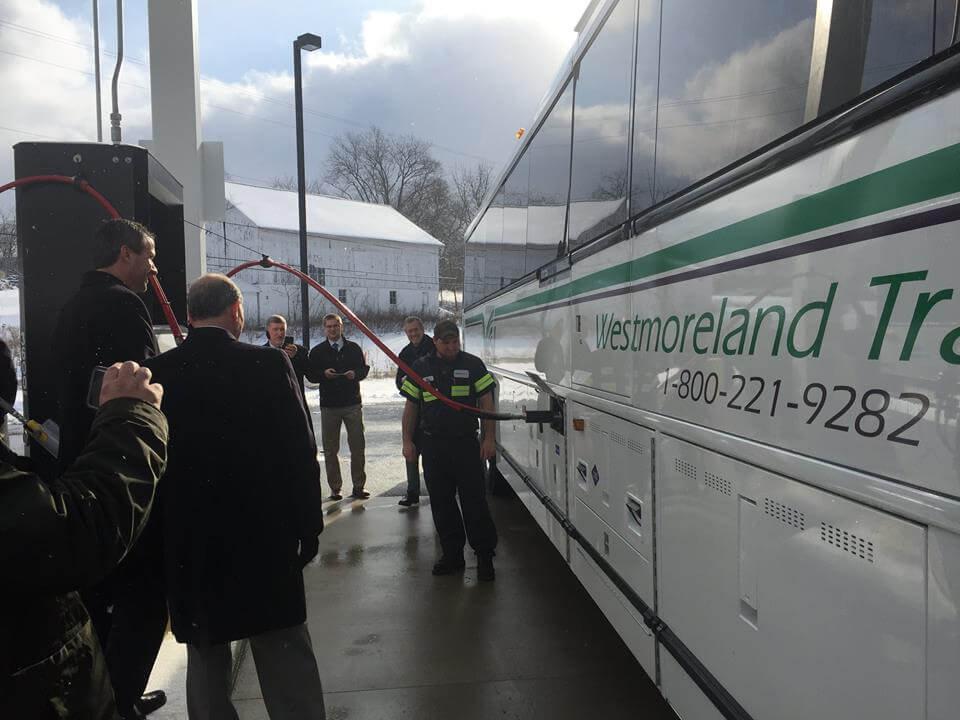 Using the P3 procurement mechanism allows PennDOT to install the fueling stations faster than if a traditional procurement mechanism were used for each site, resulting in significant estimated capital cost savings of more than $46 million, according to the department.
In addition to the Westmoreland County CNG facility, other stations currently open under the P3 program include ones at the Cambria County Transportation Authority's Ebensburg and Johnstown facilities (the latter of which includes public fueling); the Mid Mon Valley Transportation Authority; the Central Pennsylvania Transportation Authority (includes public fueling); the Centre Area Transportation Authority; and the Beaver County Transit Authority, according to PennDOT.
When the statewide P3 project is completed, the fueling stations are expected to supply natural gas to more than 1,600 CNG buses at transit agencies across Pennsylvania. The P3 project will include CNG fueling accessible to the public at six transit agency sites, with the option to add to sites in the future. PennDOT will receive a 15% royalty, excluding taxes, for each gallon of fuel sold to the public at public sites, which will be used to support the cost of the project.
To learn more about this and other P3 projects, visit P3forPA.pa.gov.
Photos courtesy of the Westmoreland County Transit Authority's Facebook page