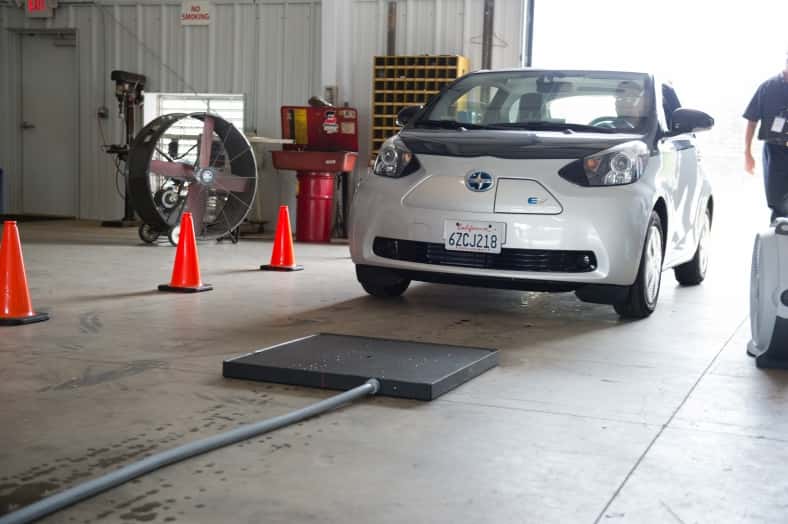 With support from the Vehicle Technologies Office, Oak Ridge National Laboratory (ORNL) and Hyundai America Technical Center Inc. have been working since 2012 to demonstrate wireless charging on a variety of plug-in and electric vehicles (EVs). ORNL is working with a mix of Toyota vehicles, including models of the all-electric RAV 4, plug-in hybrid electric Prius and all-electric Scion iQ, while Hyundai America Technical Center Inc. is testing its technology on five all-electric Kia Souls.
The technology behind wireless charging creates a connection between a transmitting pad on the ground (such as in a garage) and a receiving pad integrated on the bottom of the vehicle. In the projects ORNL is leading, the transmitting pad is connected to a 240-volt outlet and generates a magnetic field of a certain frequency. When the coil in the receiving pad is tuned to oscillate at the same frequency, the magnetic field will generate a current in the receiving coil, charging the vehicle's battery.
Engineers are developing systems under these projects aimed at exceeding the power and speed of wired Level 2 charging. Level 2 charging currently takes about four to six hours to charge most EVs. The projects are focusing on high-power charging with a transfer of more than 6.6 kW, though engineers eventually hope to reach 10 kW and eventually 19 kW to facilitate faster charging.
After initial testing, researchers will send the vehicles and charging units for validation testing at Idaho National Laboratory. ORNL has already sent one of its developed vehicles there for researchers to fully examine, and Hyundai will be doing the same as soon as it finalizes its prototype.
This form of testing ensures that the systems meet international safety standards. For example, the transmitted energy cannot interfere with a pacemaker and other medical devices or harm human health. In addition, Idaho National Laboratory researchers will test how well these devices detect objects so that, for instance, if a pet runs under the vehicle, the system would shut down and alert the owner.
Beyond static charging, ORNL is already looking ahead at the next phase of wireless charging that can be used for low-speed dynamic charging, with vehicles moving up to 25 miles per hour. In the future, drivers may be able to charge their cars while driving! Wireless charging, be it static or dynamic, will bring real benefits to the real world sooner than people expect.