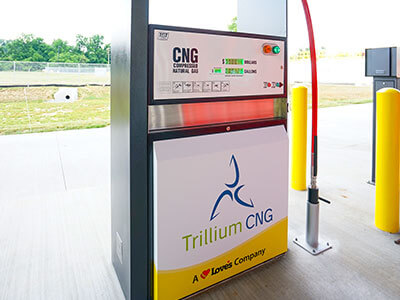 New York City Transit Authority and the Metropolitan Transportation Authority (MTA) Bus Co. have selected Love's Trillium CNG to provide operations and maintenance for six existing compressed natural gas (CNG) fueling facilities.
Trillium CNG was selected for the seven-year contract following a competitive procurement process. The company will also perform upgrades at four of the fueling sites.
The private facilities are located throughout the New York City boroughs of Queens and the Bronx. Trillium CNG will remotely monitor the performance of the stations 24/7 from its headquarters in Houston, plus make regularly scheduled on-site visits and conduct annual fuel quality tests. Upgrades will be made to the control systems and dispensers, as well as other management systems, to ensure uninterrupted performance and lower operating costs for the authority.
"Public transportation is extremely important to millions of people in the New York City area who rely on it for their daily commutes, so ensuring each fueling facility operates at maximum capacity is our top priority," comments Bill Cashmareck, managing director of Trillium CNG. "Our partnership guarantees the fueling facilities remain in excellent condition so NYC Transit and MTA can focus on providing superior service to their riders."
Trillium CNG has been a partner to NYC Transit for the past 16 years. In that time, Trillium CNG says it has modernized the authority's CNG operations to maintain safe and reliable bus fueling while increasing overall system efficiency.