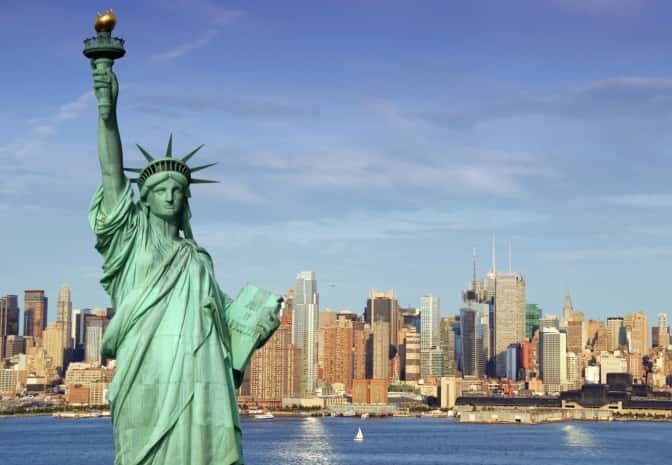 New York City Mayor Bill de Blasio and other officials recently unveiled the latest "moonshot challenge" under NYCx, a municipal program to transform urban spaces into hubs for technology collaboration, research, testing and development.
According to an announcement, the new moonshot challenge calls on the tech industry to develop and deliver solutions to scale electric vehicle (EV) charging hubs and accelerate the use of EVs citywide.
The announcement says that, although the cost of electric cars and trucks has become more affordable, ensuring the infrastructure is in place to help New York City drivers make the switch is essential to facilitate EV use. EVs release no tailpipe emissions, require less maintenance and are ideal for city driving, making them one essential component to delivering a greener transportation system and achieving the city's ambitious climate goals.
The city's transportation sector currently accounts for nearly 30% of local greenhouse gas emissions, 90% of which comes from private vehicle use. This new NYCx moonshot challenge invites global tech stakeholders to creatively develop solutions to help drivers more easily make the shift away from fossil fuels to cleaner vehicles. Participants will be asked to identify and test a mix of breakthrough EV charging technologies, as well as develop a plan to incentivize EV usage.
"We are continuing to be aggressive in addressing the threat of climate change," says de Blasio. "NYCx is mobilizing tech to accelerate our actions to reduce greenhouse gas emissions and calling on the disruptors and tech experts to join."
Winning solutions will complement previously announced plans to develop new, fast charging stations across the city with a $10 million investment to develop hubs with up to 20 chargers per site. Up to four finalists will be awarded $20,000 each to develop and present proposals to staff from the NYC Department of Transportation (DOT) and Mayor's Office of Sustainability. The winner will be eligible to have elements of their submission included in the city's EV charging roadmap. These efforts can, in coordination with the city's Clean Fleet program, support the de Blasio administration's target of having 20% of motor vehicle registrations in New York City be electric by 2025.
"This new moonshot challenge is a call to action for technology to deliver breakthroughs that positively impact New York City and unite around a global issue," says Miguel Gamiño, Jr., the city's chief technology officer. "The superpower of the public sector is collaboration and partnership to solve common global problems."
"NYCx and this electric vehicle challenge allows us to engage the best minds from New York City and around the world to creatively and thoughtfully solve real-life climate challenges right now," adds Mark Chambers, director of the Mayor's Office of Sustainability.
DOT Commissioner Polly Trottenberg notes, "As the city embarks on an ambitious program to expand electrical vehicle charging infrastructure, we look forward to the innovative ideas arising from this challenge that will inform our own approach and maximize the usage of EV charging stations."
The NYCx EV challenge comes shortly after the world marked the two-year anniversary of the signing of the Paris Climate Agreement. Despite President Donald Trump's plan to withdraw the U.S. from the global accord, de Blasio pledged New York City would adhere to the agreement and accelerate the city's already ambitious goal of reducing greenhouse gas emissions 80% by 2050 from 2005 levels. The city announced those priorities to reduce emissions from buildings, waste and transportation sectors earlier this year in the city's 1.5°C climate action plan.
New York City is one of many cities determined to address the issue of climate change. Of note, Paris which has long been a leader on transitioning drivers to EVs, is leveraging the NYCx moonshot platform and the EV challenge as an opportunity to increase access to fast charging stations in its own city. As part of this partnership, the City of Paris will also engage the tech community in identifying solutions to the city's unique transportation needs through a Paris&co Urban Lab challenge.
"Paris and New York are committed to climate action," says Paris Mayor Anne Hidalgo. "Launching a challenge in partnership with the City of New York, Paris is joining the call to global technologists to help us take action to tackle climate change and move toward clean mobility."
More information on the broader NYCx program is available here, and interested EV competition participants can submit proposals online here.