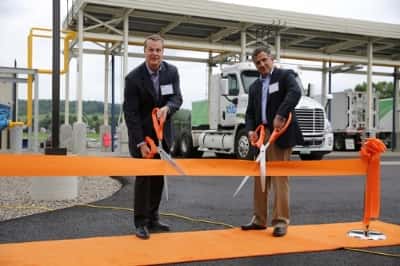 Seven months after commencing construction, Direct Energy Business and Xpress Natural Gas (XNG) announced that a compressed natural gas (CNG) production facility and distribution terminal in Manheim, N.Y., is now fully operational. Direct Energy says the facility is able to serve customers hundreds of miles away with CNG for heating and manufacturing processes.
The energy company teamed up with XNG, which operates a large fleet of high-capacity composite CNG trailers, to transport CNG to remote businesses and municipalities throughout the Northeast's tri-state area that cannot sufficiently be served from existing pipeline infrastructure.
According to Direct Energy Business, the Manheim CNG center can deliver up to 45 trucks per day of natural gas with an annual peak capacity of 5.7 billion cubic feet (BCF) and features redundant design to ensure reliable service.
'With its advantaged pricing, emissions benefits and reduced maintenance costs, CNG is the clear choice for businesses looking to lower operational costs and add long-term value,' said John Schultz, president of Direct Energy Business. 'Through our relationships with partners such as XNG, we're focused on providing our customers turnkey CNG solutions to meet their needs."
Photo courtesy of Direct Energy Business: Schultz and John Nahill, CEO of XNG, cut the ribbon on the new Manheim CNG center, located in upstate New York.