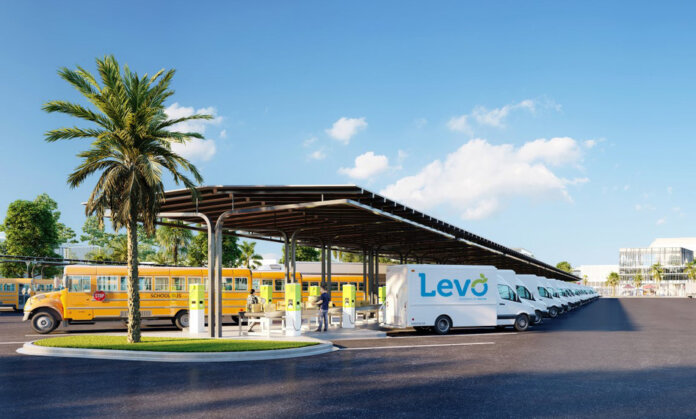 Nuvve Holding Corp. and Stonepeak Partners LP have entered an agreement to pursue the formation of a new sustainable infrastructure joint venture called Levo Mobility LLC. 
Upon signing of definitive documents and closing, Levo will utilize Nuvve's proprietary V2G technology and Stonepeak's capital to help accelerate the deployment of electric fleets, including thousands of zero-emission electric school buses for school districts nationwide through "V2G hubs" and transportation-as-a-service (Taas).
"We are thrilled to be working with Stonepeak, an infrastructure investor with significant expertise investing in energy, transportation and logistics," says Gregory Poilasne, chairman and CEO of Nuvve. "Through our relationship, we plan to remove barriers that currently exist for school districts and other fleet operators to convert to electric vehicles (EVs). At the same time, we are expanding the use of Nuvve's V2G technology to lower the total cost of ownership for end users. We look forward to working closely with the team at Stonepeak and our other partners in the EV ecosystem to continue delivering our technology and solutions to fleet customers, grid operators, electric utilities and other stakeholders around the world."
Stonepeak, along with its portfolio company Evolve Transition Infrastructure LP, plans to deploy up to an aggregate $750 million capital commitment to Levo. Levo expects to initially focus on electrifying school buses and associated charging infrastructure plus V2G services to provide safer and healthier transportation for children while supporting CO2 emission reduction, renewable energy integration and improved grid resiliency. Levo also plans to work with commercial fleets such as last-mile delivery, ride hailing and ride sharing, and municipal services.
Beyond intelligent charging, Nuvve's V2G platform allows EV batteries to store energy, including renewables such as solar and wind, and then safely discharge part of this stored energy back to the grid while parked and plugged in. Additionally, V2G allows EVs to earn revenue by combining energy from multiple batteries to form virtual power plants (VPPs) and access energy markets, sell energy back to the grid and perform services that stabilize the grid.
Levo's initial focus on school buses comes at a time when President Joe Biden has prioritized electrification of the 480,000 school buses in the U.S. through his infrastructure plan. Building on this, lawmakers recently announced a $25 billion bill to electrify school buses and, increasingly, school districts are seeking to convert to zero-emission vehicles to provide cleaner rides for students.
Today, approximately 95% of school buses are fueled by diesel but making the switch to electric is often a challenge due to high upfront capital costs and the complexity of deploying and managing electric charging infrastructure. Levo plans to address these obstacles through flexible options including a fully financed offering that covers the upfront costs of electric buses coupled with a complete charging solution powered by Nuvve's V2G technology. Levo's customers would sign contracts for their electric fleets, regardless of size, that would provide predictable and known budget savings.