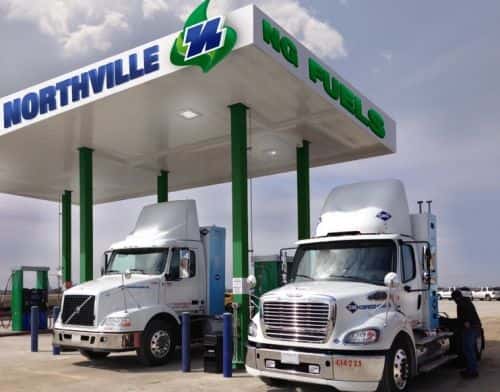 Northville Natural Gas LLC, a company that specializes in developing refueling infrastructure for NGVs, has opened three new public-access compressed natural gas (CNG) stations in Indiana this week.
First, the company established CNG refueling capacity at an existing McBe truck stop located at 1767 S. Old Highway 41 in Vincennes, under the Northville NG Fuels brand. The anchor fleet of this site is for-hire truckload carrier Bestway Express, and Northville expects additional fleets to use the station, which is a 'convenient fueling way-point for fleet traffic traveling north-south on Highway 41 and east-west on Highway 50 between Cincinnati and St. Louis, the company says.
Another station opening this week is at the PMG Airport Travel Plaza at 8701 Col. H. Weir Cook Memorial Dr. This station, which Northville developed in partnership with Petroleum Marketing Group, is strategically located near Indianapolis International Airport
Northville's third CNG station is located northwest of Indianapolis, at 1490 S. County Rd. 700 West in Frankfort. Anchor fleet Frito-Lay operates a number of Class 8 CNG trucks in the area, which is close to I-65 (running from Louisville, Ky., and points in the Deep South to Indianapolis to greater Chicago).
'With our volume of trucks fueled by CNG and traffic patterns, we will be a frequent and loyal customer at the new station,' commented Mike O'Connell, senior director of fleet operations for Frito-Lay North America.
Northville says all of these stations were designed to accommodate heavy-duty rigs – not only via adequate room to maneuver tractor-trailers, but also by virtue of high-capacity CNG refueling and substantial on-site CNG storage.
Northville Natural Gas is a unit of Northville Industries, a New-York based energy company that has been in business for nearly a century. The parent company focuses primarily on operating petroleum and biofuel terminals.