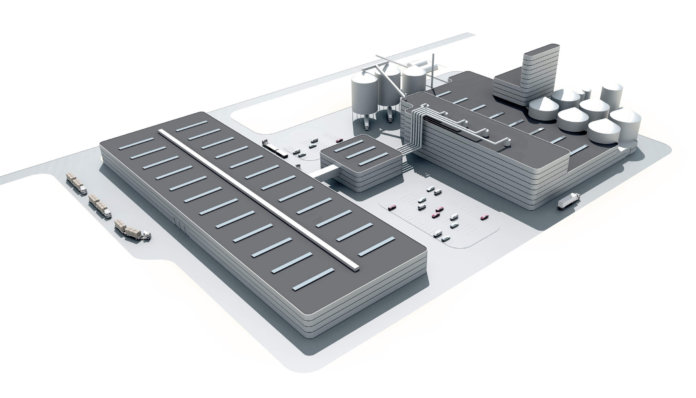 NewEnergyBlue is about six months away from breaking ground on a North Dakota plant that will turn wheat straw into fuel for vehicles.
According to NewEnergyBlue, the New Energy Spirit Biomass Refinery is forecast to annually turn 280,000 tons of North Dakota wheat straw into 16 million gallons of fuel for sale in California.
"It's no secret that clean energy producers covet the state's monster fuel market," says Thomas Corle, CEO of NewEnergyBlue. "Carbon is the California regulators' primary yardstick. The policy goal of the state's Low Carbon Fuel Standard is shrinking greenhouse-gas emissions by reducing fossil carbons in transportation fuels. Traditional grain ethanol is rated 20 percent to 30 percent below the carbon baseline of gasoline. But with our process design, cellulosic ethanol can achieve 130 percent below gasoline's baseline. The project gets paid on every ton of fossil carbon saved."
New Energy Spirit Biomass Refinery LLC will own and operate the plant, which is funded in part by regional investors and is sited in Spiritwood Energy Park near Jamestown, N.D. After the refinery is up and running, NewEnergyBlue envisions a series of refineries throughout the grain belts of the U.S. and Canada.
"Today, we're reaping the benefits of over $250 million already invested in scaling-up and optimizing our proprietary process," says Stephan Rogers, president of NewEnergyBlue. "When we extract sugars from grain straws and corn stover, they'll become cellulosic ethanol. But also imagine every plastic water bottle now made from petroleum someday being made from plant sugars that break down harmlessly in landfills."
He adds, "We've engaged top engineers to complete the development work. We expect to finalize the $170 million financing and are shooting for steel in the ground by spring 2019."