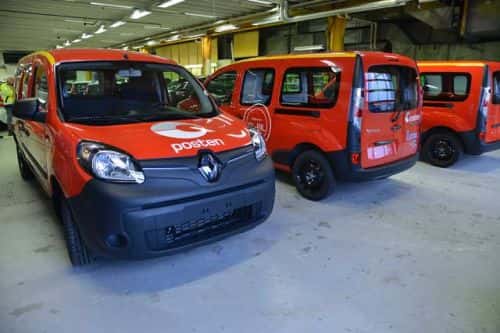 Posten Norge, a Nordic mail and logistics group, says it recently decided to 'make one of the world's largest single purchases of electric cars' as part of the company's program to reduce its CO2 emissions.
Over the course of one year, the company will introduce almost 300 new electric cars into its mail distribution fleet throughout Norway. Posten Norge says it has selected Renault as the primary supplier of the new vehicles and Nissan as the secondary supplier to provide a smaller number of cars.
In total, Posten Norge has around 3,700 routes throughout Norway, and the new cars are smaller distribution cars that will primarily be used in densely populated areas and for mid-length routes. Over the past five years, Posten Norge says it has introduced more than 900 electric vehicles and trailers into its mail distribution operations.
Speaking about Posten Norge's latest plans, CEO Dag Mejdell says, 'This represents a milestone in our environmental work. Posten Norge is one of the Nordic region's biggest transport operators, and our CO2 emissions are quite large. We are now seeing the rather significant results from the measures we have implemented. The purchase of new electric cars is one of the major contributors to us meeting our environmental targets."