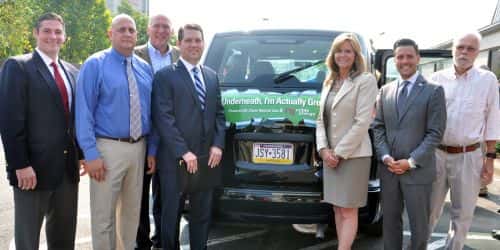 Noble Energy Inc., an oil and natural gas producer with operations in western Pennsylvania and West Virginia, has announced its donation of a new compressed natural gas (CNG)-powered van to Arc Human Services Inc. The social service organization is using the new CNG van to provide local transportation services for the individuals it serves.
The announcement was made at an event in Washington, Pa., at the DoubleTree by Hilton on Monday. Curtis Reuter and RJ Moses of Noble Energy were joined by Ed Picchiarini of AAdvantage Inc. and Jim Settembrino of Arc Human Services Inc. to celebrate the announcement. Speakers also included elected officials.
"This clean-burning CNG van will help Arc Human Services offset fuel costs while also making a meaningful contribution to cleaner air quality. Most importantly, the partnership will help provide local individuals with essential transportation services they depend upon," said RJ Moses, Noble's senior operations manager of the Marcellus Business Unit.
According to Noble, its contribution will help Arc Human Services lessen fuel costs by 25% with CNG – even with today's low gasoline prices – as well as reduce greenhouse gas emissions (GHGs) by 13-21% and nitrogen oxides (NOx) by 76-97%. In addition, Waste Management is providing the organization a convenient and affordable option for fuel at the refuse company's local CNG station off Route 18 in Washington, Pa.Â
"We are fully committed to supporting local individuals with intellectual and developmental disabilities to obtain the skills and resources they need to live a successful and fulfilling life within our community. It is wonderful to have a partner like Noble Energy, who is equally dedicated to the common goal of bettering people's lives," said Arc Human Services Executive Director Jim Settembrino.