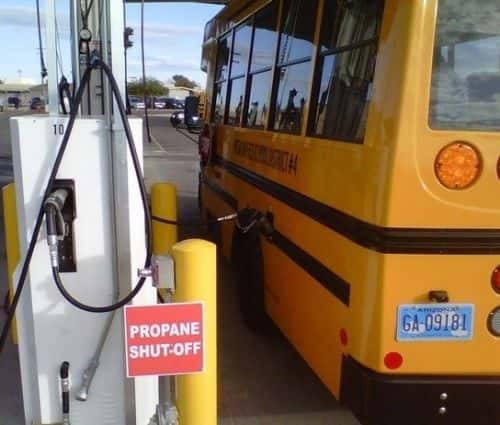 Ron Latko, director of transportation and vehicle maintenance for Arizona's Mesa Unified School District, discusses his fleet's conversion from diesel to propane autogas with both the easy nonchalance of a pragmatist and the passion of a prophet. The fact is, shifting to propane made sense in terms of dollars and logistics, and the results of the switch would likely arouse passion in most fleet managers.
'I have yet to find a downside,' Latko says of the move to propane-powered buses.
That's certainly a strong endorsement of the technology, but let's look at specifics.
The fleet in Mesa – the state's largest single public school district – contains more than 500 buses, each of which averages about 15,500 miles per year. The service life of a diesel-powered bus operating in Arizona is typically about 13 years, or 200,000 miles. Latko says the new propane buses will likely be in circulation longer than that, mainly because they run cleaner and more efficiently than diesel models.Â
'We believe these engines will have a longer life, and we will get an additional three to five years,' he tells NGT News. 'In that case, the operating savings will be greater than the cost of the bus.'
The school district brought 21 propane wheelchair buses online in October 2011. These Blue Bird/Girardin vehicles, which are outfitted with OEM-approved ROUSH CleanTech propane systems, accommodate 15 passengers and two wheelchair positions. Each unit cost $6,400 less than the identically configured diesel buses Mesa Unified purchased three years ago.
Latko is also taking delivery of six 77-passenger Blue Bird/ROUSH propane buses this week. The units were $10,245 more expensive than the 72-passenger conventional diesel buses that the fleet bought in 2009.
Latko explains that he did not balk at the additional cost for the 77-seaters for two main reasons. First of all, model-year price increases between 2009 and 2012 would have closed the gap between the propane and diesel models. Secondly, if Mesa Unified had bought model-year 2010 diesel buses, they would have required expensive equipment in order to meet new emissions standards.
The fact that the use of propane autogas eliminates the need for retrofits or any other equipment linked to diesel-emissions standards – perhaps even those that have not yet been formulated by regulators – is a huge advantage for fleets.
'This is the cure for the diesel-emissions headache,' Latko says. 'I never have to worry about it again.'
Then there's the question of fuel. To support the fleet conversion, Mesa Unified contracted with Ferrellgas to install an 18,000-gallon, in-ground propane tank and associated fueling infrastructure at a district lot. The price tag was $280,000 – mostly attributable to the expenses incurred when putting a tank underground.
Right now, diesel is $3.54 per gallon in Mesa, but the school district is getting propane for $1.425 per gallon.
'If Congress passes the excise tax rebate – $0.50 per gallon – that expired at the end of 2011, we will get the propane price down to $0.925 per gallon,' Latko says.
Fuel for less than a dollar per gallon has not been a part of the fleet industry's lexicon since the Clinton administration. With each school bus in Mesa consuming more than 25,000 gallons of fuel over its lifetime, the upside of propane is profound.
All told, the shift to propane is yielding 32.6 cents per mile in operational cost savings for Mesa Unified. The undertaking has been supportive of the bottom line, while being minimally disruptive to overall fleet operations. Moreover, Latko says operators love the buses' power output and drivability.
'I have never had a project go as smoothly as this,' he remarks.
But perhaps the most important detail in the Mesa Unified case study is that the propane fleet conversion is being pursued without grants or other incentives, either at the state or federal level.
The propane buses were purchased with bond money set aside specifically for school-transportation vehicles, whether powered by diesel or another fuel. Latko and his colleagues chose propane.
And when that particular complement of bond money is exhausted, the district budget will still accommodate bus purchases, estimated to be between $2 million and $3 million annually. It's simply a matter of how many buses Mesa Unified is able to buy in a given year, based on the availability of that bond funding.
In any case, Latko plans on making a complete shift from diesel to propane in the coming years. For Mesa Unified, propane is the future.
Photo courtesy of Mesa Unified School District