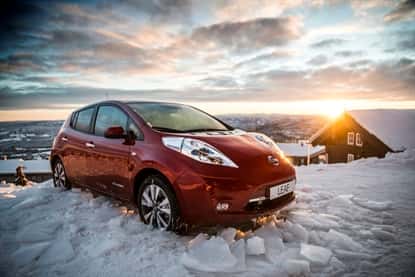 Nissan has released a short film revealing the new Nissan LEAF electric car with a larger 30 kWh battery pack from a sheath of ice in snowy Norefjell, Norway.
Nissan's electric vehicle now delivers up to 155 miles of driving range on a single charge, as measured on the New European Driving Cycle, thanks to a new 30 kWh battery pack. That is 26% further than before, and the 2016 LEAF now comes with the latest evolution of the NissanConnect EV infotainment system on Acenta and Tekna trims. This includes improvements to the remote defrost feature, superior functionality and greater connectivity.
Using the U.S. Environmental Protection Agency testing standard, the Nissan LEAF with the 30 kWh battery pack is rated at about 107 miles of driving on a single charge. The LEAF originally came with a 24 kWh battery that offered up to 84 miles of driving on a single charge.
Norwegian ice specialist Mr. Iceman froze the Nissan LEAF into its icy blanket. "I have never frozen an electric car before, but it sounded like an interesting challenge, and I think the end result is stunning,"says Jack Stensland, CEO of Mr. Iceman.
The film also highlights the reliability and durability of the new Nissan LEAF 30 kWh battery, which Nissan says undergoes rigorous testing to ensure it is capable of withstanding even the most challenging driving conditions. Nissan also offers a specially engineered Nordic Pack, which includes a battery heater to counter the effects of the extreme low temperatures.