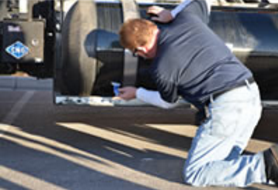 The Natural Gas Vehicle Institute (NGVi) has announced that 100 CNG fuel system inspectors have been certified since the company's CNG Fuel System Inspector Certification program was launched in September 2016.
According to NGVi, this significant industry milestone means these technicians, the first 100, have demonstrated comprehensive inspection competency.
This group represents heavy-duty truck leasing companies, refuse fleets, cylinder manufacturers, municipal fleets, truck manufacturers and dealers, school districts, transit agencies, trucking companies, food and beverage delivery companies, and independent truck service centers.
"We are delighted that our certification program has been well received by the industry and has succeeded, with a high participation rate after only three months of operation," says Annalloyd Thomason, NGVi's vice president and general manager. "This clearly demonstrates that companies recognize the need and value of NGVi's certification, which offers a greater level of confidence in their technicians' abilities to conduct CNG fuel system inspections. This, in turn, contributes to overall NGV fleet safety."
As reported, NGVi's CNG Fuel System Inspector Certification program is administered independently from the company's training programs and is designed according to the requirements of the National Commission for Certifying Agencies. It was created by industry experts and based on a detailed job study of tasks required to be performed by CNG Fuel System Inspectors, according to federal codes and standards, and industry best practices.
NGVi's certification program is overseen by an independent advisory board, including representatives from Agility Fuel Systems, Hexagon Lincoln, Penske Truck Leasing, UPS, Volvo, Waste Management and Worthington Industries.
"We are grateful to work with the advisory board, which represents all segments of the industry," says Thomason. "The expertise and guidance of the advisory board helps us ensure both the impartiality and uniformity of our program. Combined with our nearly 30 years' experience with hands-on fuel system inspections, the advisory board has helped develop NGVi's certification exam process into the right combination of knowledge and skills required for CNG fuel system inspection competency.
"It is important to note that participants in our CNG Fuel System Inspector Certification program are not required to have taken training from NGVi to sit for the exam," adds Thomason. "Any technician who is prepared is welcome."
NGVi's CNG Fuel System Inspector Certification is valid for five years. The rigorous certification exam is offered live at various locations throughout the country, as well as online via an electronically proctored exam that can be scheduled individually and taken at a time convenient for the participant.