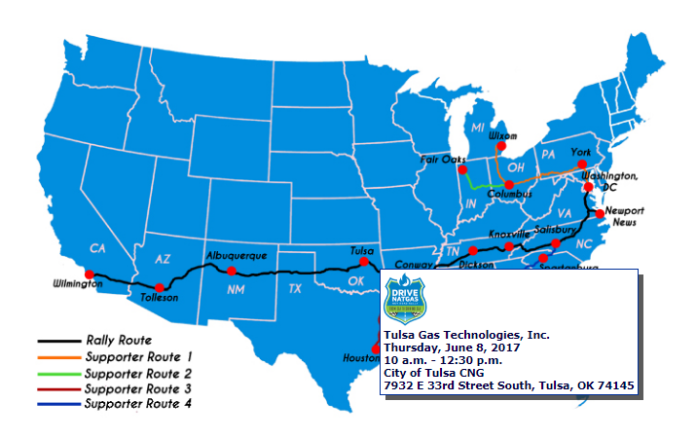 Officials from the City of Tulsa, the Oklahoma Department of Energy and Environment, and the Oklahoma Department of Labor held a ribbon-cutting ceremony yesterday to officially open the city's second public-access compressed natural gas fueling station at 7932 E. 33rd St.
Notably, the NGV Road Rally Across America, a coast-to-coast road trip in natural gas vehicles, also participated in the opening of the station.
The event included remarks from City of Tulsa Chief of Economic Development Kathy Taylor; District 5 City Councilor Karen Gilbert; Michael Teague, Oklahoma secretary of energy and environment; and Melissa McLawhorn Houston, Oklahoma commissioner of labor.
Secretary Teague presented an award to Taylor on behalf of the City of Tulsa, recognizing the city's CNG efforts. Tulsa owns and operates several CNG fueling stations and has converted significant portions of its fleet to run on CNG. Tulsa's trash hauler, New Solutions, serves customers with a CNG fleet.
"It's great that the NGV Road Rally Across America drivers stopped in Tulsa on their way across the country and helped us celebrate the opening of our second CNG fueling station," Mayor G.T. Bynum said. "I am proud of the City of Tulsa's progress in converting many of our fleet vehicles to CNG. CNG is an alternative fuel that is produced locally, allows our fleet to operate more efficiently, saves the taxpayers in our city money, and gives the city a bit more certainty when budgeting for fuel."
In addition to the City of Tulsa, local event organizers and sponsors included Tulsa Gas Technologies, Tulsa Area Clean Cities, ONE Gas, Arkansas Oklahoma Gas, Centerpoint Energy, and OKIE811.
ONE Gas (formerly ONG) provided grilled food after the event, where multiple CNG vehicles were on display.
Located next to Tulsa Transit's Memorial Midtown Station, the new CNG station will be open to the public seven days a week, 24 hours a day, and will be utilized to fuel the city's growing CNG fleet, as well as Tulsa Transit buses and public vehicles. The station, which cost approximately $1.8 million, accommodates small vehicles, large buses and Class 8 heavy-duty trucks.
The city currently operates 58 CNG vehicles (19 sedans, 30 light-duty trucks and nine heavy-duty trucks), reporting a fuel savings of nearly $20,000 annually from its CNG fleet vehicles.
Tulsa's first CNG station opened in September 2012 at 428 W. 23rd St., the city adds.
The NGV Road Rally began its 4,825-mile tour in Long Beach, Calif., on Monday, June 5, and will conclude in Washington, D.C., on June 16.