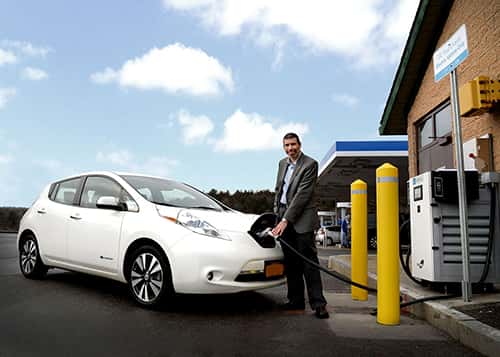 New York's first high-speed electric vehicle (EV) charging stations have been installed at four service areas along the New York State Thruway in the Hudson Valley.
First announced earlier this month at Gov. Andrew Cuomo's State of the State address, the new charging stations are part of the state's Charge NY initiative to install 3,000 EV charging stations across the state by 2018. Cuomo also announced plans for an additional 800 new charging stations in support of the Charge NY goal.
"In time, we hope to expand this program so these high-speed chargers are a common sight throughout the Thruway system," says Gil C. Quiniones, president and CEO of the New York Power Authority (NYPA). "We are paving the way for new business investment and jobs, as well as cleaner air for all New Yorkers."
The chargers enable fast-charge-capable EVs to be powered in about 30 minutes. They are located on I-87 northbound at the Plattekill and Malden service areas, between exits 17 and 21, and on I-87 southbound, at the Ulster and Modena service areas between exits 20 and 17. The new infrastructure stems from collaboration between the NYPA, the New York State Thruway Authority, the New York State Energy Research and Development Authority and Nissan North America, which paid for the charging stations. NYPA paid for the installation.
"Having a robust public charging infrastructure is critical to the success of electric vehicles, which is why Nissan is collaborating with local officials to provide additional charging options for New York drivers," says Andrew Speaker, Nissan's director of electric vehicle sales and marketing. "More charging options will allow more New Yorkers to enjoy the benefits that electric vehicles have to offer, including significantly lower operating costs – with zero spending for gas."
The charging stations are each capable of supplying up to 50 kW of power to an electric vehicle and support both of the standard connectors – CHAdeMO and SAE Combo. Thruway motorists will be charged $8 per charging event, and motorists will need a Greenlots account or use the Greenlots app via a smartphone to charge at these stations.
Since Charge NY was launched in 2013, more than 750 EV charging stations have been added in New York, bringing the current total to approximately 1,250. Approximately 14,500 plug-in vehicles are currently operating in the state.