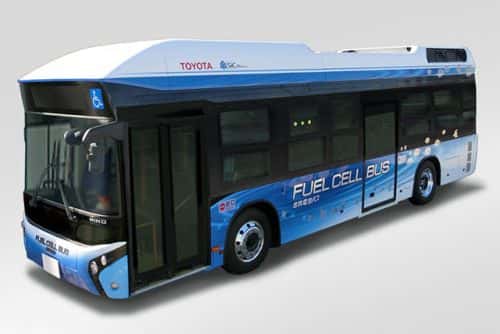 Toyota Motor Corp. and Hino Motors Ltd. have announced that a newly developed fuel cell bus is scheduled to service a route in Toyota City, Japan, starting Jan. 9.
The companies jointly created the vehicle based on a Hino hybrid non-step route bus, and the vehicle is equipped with a fuel cell system Toyota had developed for its new Mirai model.
The fuel cell bus features eight high-pressure hydrogen tanks, two fuel cell stacks and two motors to provide increased output. The bus also has a system for supplying electric power to buildings and other facilities during emergencies.
Toyota and Hino will verify the feasibility and effectiveness of the new bus and will use the results for further research and development. The test will be conducted in cooperation with Toyota City as a part of the Toyota City Low-Carbon Verification Project. Hydrogen fueling of the bus will be carried out at Toyota Ecoful Town.
Photo courtesy of Toyota.