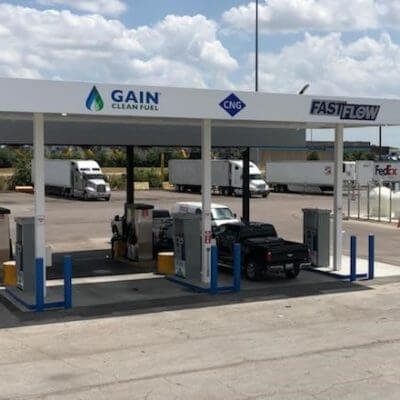 GAIN Clean Fuel and Independence Fuel Systems (IFS) have opened a new public-access renewable natural gas (RNG)/FastFlow compressed natural gas (RNG) refueling station in Dallas.
The station is located along I-20, between I-35 East and I-45, at 8181 South Lancaster Rd.
"This station will allow leading companies to reduce their transportation-related emissions – satisfying greenhouse-gas targets and improving air quality for communities in the greater Dallas area," says Mike Koel, GAIN Clean Fuel's president.
Designed to accommodate Class 8 vehicles, the facility also provides fast-fill capabilities.
"This is an exciting opportunity for us to further our mission of helping build America's energy independence by providing high-quality CNG stations," adds Kevin Russell, CEO of IFS. "We're proud to have FastFlow CNG serve this region."
"At $1.89 compared to $2.57 for regular gasoline in Dallas, natural gas motorists are saving 26 percent every fill-up," notes Jason Isaac, president of the Texas Natural Gas Foundation.