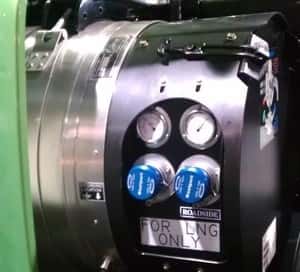 A new consortium called Eagle LNG Partners has taken shape in order to streamline access to liquefied natural gas (LNG) for industries such as long-haul trucking, rail, mining, marine, and oil and gas services.
Clean Energy Fuels Corp., Ferus Natural Gas Fuels, GE Ventures and GE Energy Financial Services are the venture's founding partners. They intend to develop, own and operate LNG production projects in various regions in the U.S. The partners' diverse backgrounds and core competencies will also enable Eagle LNG Partners to offer LNG transportation and delivery, on-site storage, gasification and dispensing.
'Major companies in the long-haul trucking business have made significant announcements over the last few months about their intentions to convert their own fleets, or the third-party trucks that move their products to natural gas,' says Andrew J. Littlefair, president and CEO of Clean Energy.
'Along with recent announcements by rail and marine companies, it's easy to understand the need for a significant increase in LNG supply in the U.S.'
Eagle LNG Partners says it is already considering projects in Florida, Washington, Colorado, North Dakota, Ohio and Texas – projects that would build upon existing Clean Energy and Ferus Natural Gas Fuels plants and operations, as well as Clean Energy/GE LNG.