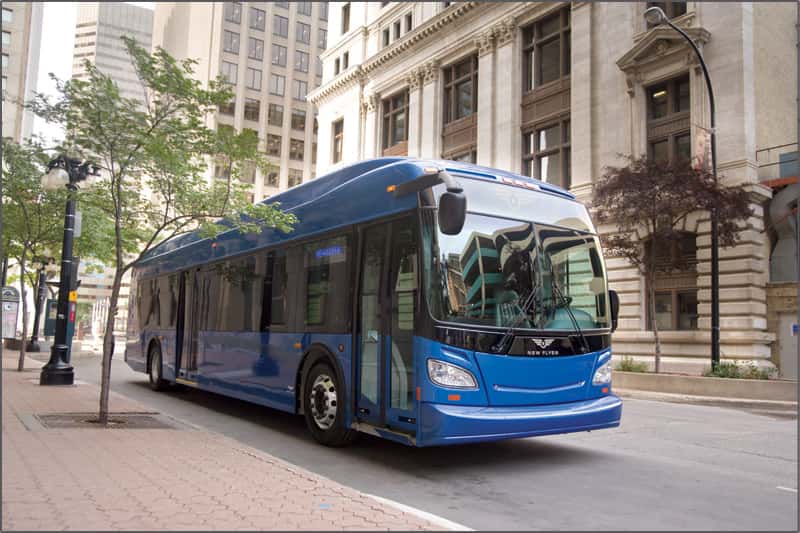 New Flyer of America Inc., a subsidiary of New Flyer Industries Inc., the largest transit bus and motor coach manufacturer and parts distributor in North America, has made two alternative fuel announcements.
According to the company, the Suffolk County Department of Public Works, located in Yaphank, N.Y., has placed an order for up to 73 New Flyer Xcelsior diesel-electric hybrid buses.
As reported, the contract includes firm orders for 10 Xcelsior 40-foot, diesel-electric hybrid buses and 20 35-foot Xcelsior hybrid buses. In addition, 43 diesel-electric buses in either 35- or 40-foot length may be exercised as options off of this contract over the next five years.
"This is the very first time we have built our best-in-class Xcelsior bus for Suffolk County," says Paul Smith, New Flyer's vice president of sales and marketing. "We look forward to providing our customer with a quality and dependable Xcelsior heavy-duty bus model, as well as building a long-lasting relationship."
The 43 option hybrids remaining in the contract will be included in New Flyer's backlog. The company notes that these buses are Buy America-compliant, with the majority of the build completed at New Flyer's Crookston, Minn., facility.
In a separate announcement, the company says it has also won an order from the Metropolitan Transit Authority of Harris County (Metro), in Houston, for 100 40-foot Xcelsior clean diesel buses.
This deployment is significant, considering that Houston is the nation's fourth-largest city and that the Houston metropolitan area is the nation's sixth-largest – spreading the word on alternative fuel options, including clean diesel.
Metro began operations in January 1979 and currently serves 14 cities, as well as major portions of unincorporated Harris County. With nearly 9,000 bus stops, Metro buses run more than 42 million revenue miles and will have had an estimated 66 million boardings per year.
According to New Flyer, the contract for this new order of XD40s is valued at approximately $46.8 million and will be used to replace some of Metro's transit buses that have reached the end of their useful life.
Delivery of these clean diesel buses is planned for 2018.
Since 1996, New Flyer and its subsidiary companies have delivered a total of 1,295 low-floor clean diesel, compressed natural gas or diesel-electric hybrid transit buses to support Metro's fleet operations.