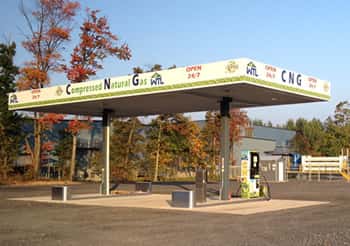 Pennsylvania-based Clinton County Solid Waste Authority has opened to the public its new compressed natural gas (CNG) refueling station, located at the Wayne Township Landfill in McElhattan, Pa.
The organization says the CNG facility, which is at 267 Fritz Rd. off U.S. Highway 220 near the Interstate 80 corridor, is 'the first of its kind' in this small central Pennsylvania county. Right now, the public station features a single dual-hose fast-fill CNG dispenser with point-of-sale capability (including for Wright Express fleet cards). Behind the fence, there are two fast-fill hoses and a number of time-fill posts.
The Clinton County Solid Waste Authority is the initial anchor fleet for the facility. It currently operates two heavy-duty dual-fuel diesel/natural gas tractors, as well as one CNG-powered recycling truck. Also, two additional tractors with dedicated CNG systems are expected to come online next month, and 'more conversions are being planned for 2014,' the authority says.
'O' Ring CNG Fuel Systems LP built the facility in partnership with Wayne Township Landfill. Construction was completed this fall.
The Clinton County Solid Waste Authority is encouraging NGV owners – fleets and individuals alike – to reach out regarding CNG refueling accounts. For more information, call (570) 769-6977 or send an email to ccswa@waynetwplandfill.com.