'O' Ring CNG Fuel Systems recently opened a facility in western Pennsylvania that will accommodate alternative fuel vehicles alongside cars and trucks running on diesel and gasoline.
The Brookville, Pa., station, which opened last month and is set for a grand opening on July 12, features dispensers for gasoline, diesel, compressed natural gas (CNG) and propane autogas. 'O' Ring's Heather Beatty Brenner tells NGT News that two fast-charge electric vehicle charging stations will be added this fall.
The facility was previously a traditional gas station/convenience store, and 'O' Ring acquired the property and began renovations last fall. The company's other locations are exclusively CNG stations, but this site – just a quarter mile off exit 78 of Interstate 80 -Â was envisioned to be an all-purpose, all-fuel stop.
CNG is retailing for $2.25/GGE at the Brookville station. A pair of dual-hose Wayne dispensers pumps CNG at 8 to 10 GGE/min. from 900 GGE of on-site storage. The fast-fill facility compresses natural gas at a rate of 3 GGE/min.
The propane autogas supplier is ProGas, based in Zelienople, Pa. There is 2,000 gallons of autogas storage on site, and the fuel is retailing for $2.79/gallon.
Outside, smaller vehicles can refuel under a canopy in front of the building, while large trucks can access CNG, propane autogas and diesel in the rear. The 24/7 facility is unmanned, and it accepts major credit and fleet cards.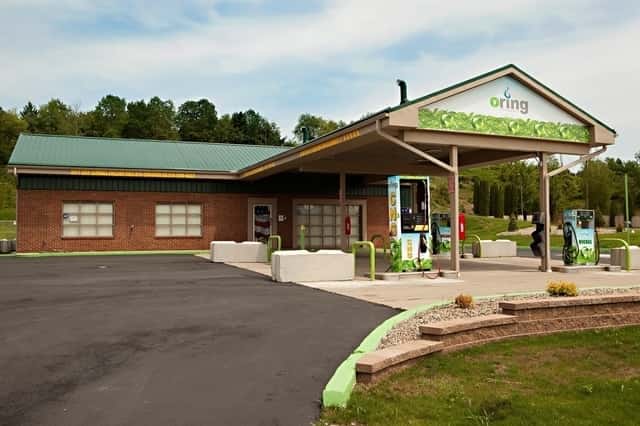 The interior of the facility is unique among its alt-fuel station peers. 'O' Ring has partnered with the Pittsburgh Regional Clean Cities and the Community College of Allegheny County to offer accredited college courses on-site. The curriculum will include technician training and equipment inspection courses, as well as various programs for first responders and other safety training.
'O' Ring notes that the renovated 3,200 square-foot space features a conference room that can accommodate 20 to 25 people, and it is open to industry partners for their own seminars and meetings.
For more info about the new Brookville station, contact Beatty Brenner at heather@oringcng.com.