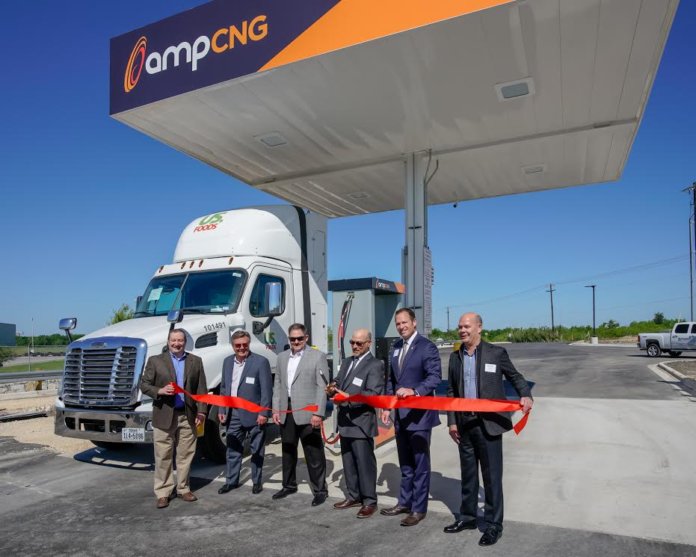 Amp Americas has announced the grand opening of its new public-access compressed natural gas (CNG) fueling station in Buda, Texas, with US Foods serving as the station's
anchor fleet.
The new Amp CNG station, supplied by Texas-produced natural gas, is the City of Buda's first CNG fueling station and Amp's eighth in the state. Amp's other stations in Texas are located in Amarillo, Harrold, Waco, Brock, Rosenberg, Sweetwater and Kerrville. The new station brings Amp's total CNG station network to 20.
In celebration, the company hosted a ribbon-cutting ceremony and conducted a ceremonial first fueling on Monday. Texas State Rep. Jason Isaac, R-Dripping Springs, and Amp CNG and US Foods executives gave remarks and took part in the ceremony.
Located at 1529 Turnersville Rd., adjacent to US Foods' distribution center in Buda – right off I-35 at exit 221 – the Amp fast-fill CNG station is now open to the public and takes all major credit and fleet cards. The station is already fueling US Foods' Buda-based fleet of 50 CNG trucks.
"We are excited to introduce a much cleaner, more cost-effective, domestic fuel to Buda and to be partnering with US Foods to improve air quality," says Grant Zimmerman, CEO of Amp Americas. "The opening of our 20th CNG station reaffirms our deep commitment to a low-carbon future."