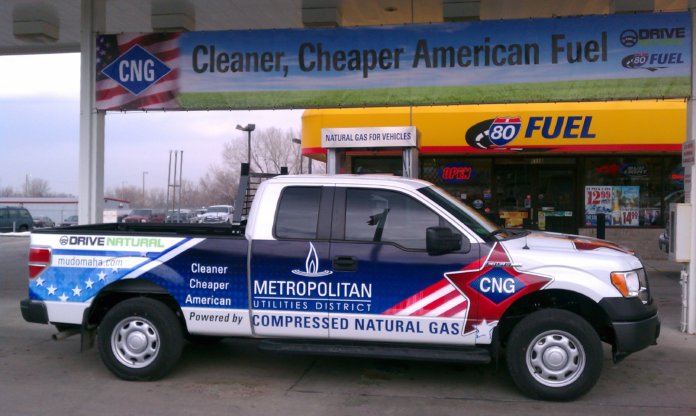 Nebraska-based Metropolitan Utilities District (MUD) says that on Earth Day, coming up on Saturday, April 22, drivers of compressed natural gas (CNG)-fueled vehicles can fill up their gas tanks for 99 cents per gasoline gallon equivalent at seven regional fueling stations.
As reported, the public stations are taking advantage of the Earth Day holiday to raise awareness of CNG as an alternative transportation fuel to gasoline or diesel.
According to MUD, the seven stations include the following:
I-80 Fuel, 5318 L St., Omaha;
MUD, 2614 S. 64th Ave., Omaha;
Trillium CNG, 13233 Cornhusker Rd., Omaha;
Black Hills Energy, 1600 Windhoek Dr., Lincoln;
Lincoln Airport Authority, 3520 NW 36th St., Lincoln;
Stirk CNG/Sapp Bros Travel Center, 6001 Cornhusker Hwy., Lincoln; and
517 23rd St., Columbus.
In 2016, these Nebraska stations collectively displaced over 1,470,000 gallons of petroleum, which eliminated 3,590 tons of carbon dioxide emissions and displaced approximately 35,000 barrels of oil.
The newest of the Omaha stations is the Trillium CNG location, which opened in summer 2014 at the Hilltop industrial park. Conveniently located near Interstate 80, this Class 8 accessible CNG station features multiple refueling lanes and is designed specifically for heavy-duty fleets requiring high-performance fast-fill refueling.
"When MUD asked us to participate in this promotion, it was an easy choice. Offering CNG for 99 cents on Earth Day is a great way to raise awareness for CNG as a cost-effective fueling source," comments Kealey Dorian, communications specialist for Love's Travel Stops, owner of Trillium CNG.
Kyle Bowman, natural gas vehicle specialist for MUD, says, "With a network of fueling stations available, CNG is a viable option for fleet operators in our region. Operators can bring real economic and environmental benefits to their businesses by using this clean, affordable American fuel."
As corporate policies mandate significant decreases in pollution, many U.S. fleet operators have increased their investment in natural gas-fueled vehicles. According to ACT Research, 23% of heavy-duty trucks sold in North America will be powered by natural gas by 2025.
MUD operates more than 170 CNG fleet vehicles, including service vans; sedans; pick-ups; and medium-duty, crew, and dump trucks.
Photos courtesy of the Metropolitan Utilities District.