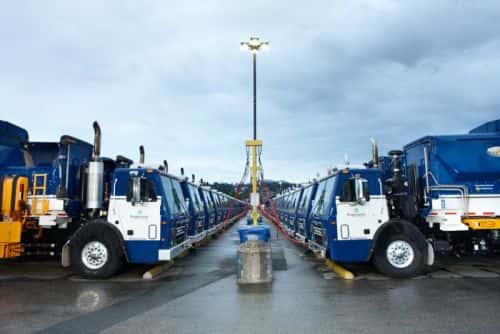 Progressive Waste Solutions Ltd., one of the largest waste management companies in North America, says it is planning to 'significantly increase' the complement of natural gas vehicles (NGVs) in its fleet.
The firm already has more than 100 heavy-duty NGVs in operation in Ontario and British Columbia, representing about 10% of Progressive's Canadian fleet. That number will expand to 150 units by the end of this year, in concert with a regional expansion of NGVs to the Quebec market.
In 2014, between 50% and 55% of its new vehicle purchases, as a part of its fleet replacement program, will be trucks outfitted to run on compressed natural gas (CNG), the company says.
'We're on the brink of a monumental industry shift,' says Dan Pio, Progressive Waste Solutions' vice president and Canadian chief operating officer.
Progressive Waste Solutions uses Mack trucks that feature natural gas engines from Cummins Westport Inc. The company's refueling stations – some of which were built in partnership with B.C.-based natural gas utility FortisBC – are heavily outfitted with CNG equipment from IMW Industries.
Progressive says additional company-owned refueling infrastructure will likely accompany its NGV expansion into Montreal.
Photo courtesy of Progressive Waste Solutions