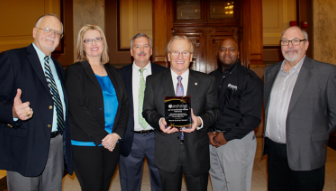 The City of Muncie, Ind., and the Muncie Sanitary District were recognized for their GreenLine compressed natural gas (CNG) station by the Greater Indiana Clean Cities Coalition at the 14th Annual Indiana Legislator's Luncheon, which was held on Tuesday, Jan. 17.
At the event, the Muncie Sanitary District was awarded the 2017 Natural Gas Award, recognizing GreenLine as east-central Indiana's first municipally owned CNG station. The award was accepted by Mayor Dennis Tyler – who saw the potential of the Muncie Sanitary District Board of Directors' vision to create GreenLine – on behalf of the City of Muncie.
GreenLine provides diesel alternatives for public and fleet vehicle use, contributing to Indiana's efforts to reduce vehicle emissions.
"It is an honor for GreenLine to be recognized as the first CNG station of its kind in Indiana," says Tyler. "The GreenLine CNG station represents our city's commitment to be at the forefront of green initiatives in order to improve the quality of life for Muncie citizens."
Public- and private-sector businesses in Indiana that make significant strides in the deployment and development of alternative fuels and technologies are recognized at the annual Indiana Legislator's Luncheon. Award recipients have had a hand in creating green jobs, reducing mobile emissions and creating energy security in Indiana.
"The Muncie Sanitary District's vision has always been to be cleaner, greener and more cost-effective," says Nikki Grigsby, district administrator of the Muncie Sanitary District. "By balancing today's environmental resources through sustainable practices – such as converting our fleet from diesel to CNG – we reinforce this commitment."
The Greater Indiana Clean Cities Coalition sponsored the event to congratulate and thank those businesses contributing to the organization's overall mission to reduce the nation's dependence on foreign oil, generate green jobs and improve air quality in Indiana.