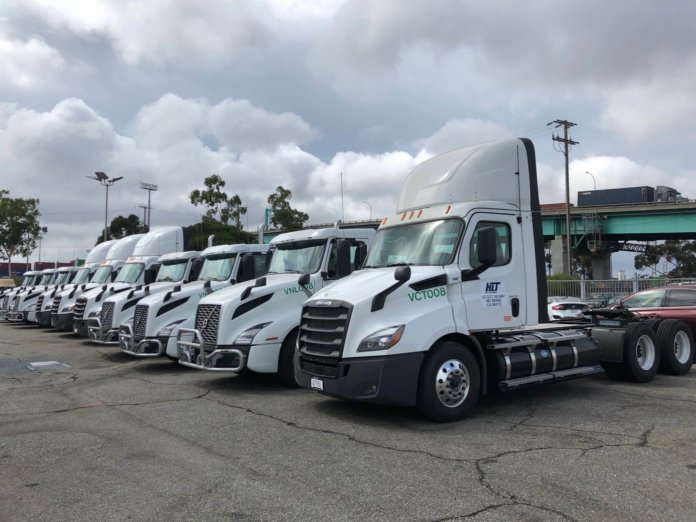 Clean Energy Fuels Corp. has announced a milestone of more than 100 trucks now powered by its Redeem renewable natural gas (RNG) at the ports of Los Angeles and Long Beach in Southern California.
The port trucking companies use the ultra-low-NOx Cummins Westport (CWI) ISX12N engine, fueled by Redeem. The ISX12N is certified by California Air Resources Board (CARB) to reduce smog-forming NOx emissions by 90% compared to the current engine standard, and by 98% when compared to the almost 8,000 older diesel trucks operating in the ports today, according to Clean Energy.
"Switching to trucks fueled with RNG is vital to improving air quality and fighting climate change in our country's largest port complex," comments Greg Roche, vice president of Clean Energy. "This is a prime example of fleets taking action that immediately decreases the environmental impact of their operations. Switching to cleaner fuel and engine technologies is reducing air and climate pollution and helping the region achieve its clean air goals."
The companies include Overseas Freight, Total Transportation Services (TTSI), Pacific 9 Transportation, 4 Gen Logistics, Orange Avenue Express, NFI Industries, Green Fleet Systems, MDB Transportation, Green Trucking LLC, West Coast Trucking and Tradelink Transportation.
"Replacing our diesel fleet with CNG trucks running clean-engine technology is part of our long-term goal to be operating at near-zero emissions by 2020," says Vic LaRosa, president of TTSI. "We're proud to be among the first to deploy ultra-low-NOx trucks and encourage the 14,000 trucks that call at these ports each month to follow suit."
Clean Energy says Redeem is the first commercially available RNG vehicle fuel. It is derived from capturing biogenic methane that is produced from the decomposition of organic waste from dairies, landfills and wastewater treatment plants. According to CARB, RNG can reduce GHG emissions by 40% to over 400%, depending upon its waste source, compared to diesel emissions.
Clean Energy and CWI recently concluded a demonstration of 20 Class 8 trucks outfitted with the Cummins ISX12N engine and fueled with Redeem RNG. The project was funded by Clean Energy, CARB, the California Energy Commission and the South Coast Air Quality Management District (SCAQMD). The project followed seven trucking companies evaluating the technology in the demanding duty cycles of port and regional trucking.
"This project confirms that the ISX12N engine paired with RNG can successfully perform port drayage and regional trucking while providing the most cost-effective and affordable solution for clean and sustainable trucking in our congested transportation corridors," says Clean Energy's Roche.
"There is no better substitute to prove performance, durability, reliability and economic viability of a technology than to put it into real-world fleet operations," adds Tom Swenson, business development manager at Cummins, Inc. "The ISX12N ultra-low-NOx engine has not only proven itself, but has become the preferred powertrain for many drivers. Beyond providing ultra-low emissions, the engines are also substantially quieter in operation, resulting in lower noise pollution."
Next year, SCAQMD is expected to vote on "indirect source" regulations that target cargo-moving industries – primarily, diesel trucks.
"We work hard at combating air pollution every day, but we have more work to do. We need to increase the rapid deployment of clean technologies to help in our efforts," says Wayne Nastri, executive officer at SCAQMD. "These fleets are helping us achieve our commitment to public health by replacing dirty diesel trucks with near-zero-emission, natural gas trucks."