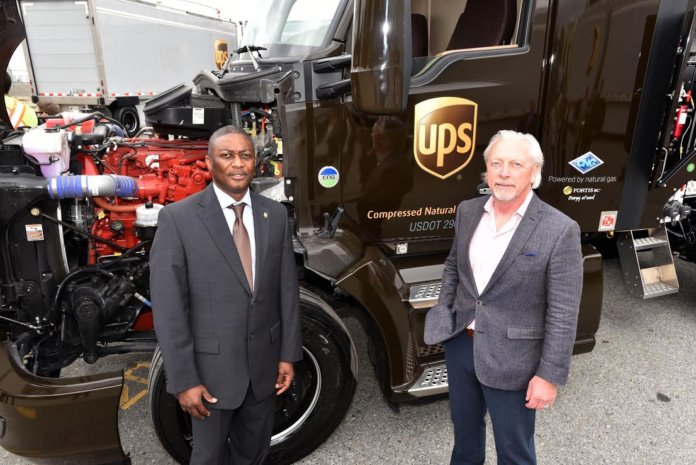 New compressed natural gas (CNG) vehicles have joined UPS Canada's growing alternative fuel fleet.
On June 21, seven CNG highway tractors and 40 delivery trucks were added to the current Canadian fleet of over 2,900 package cars, tractors and shifters. Currently, more than 40% of the company's fleet in Canada runs on alternative fuels.
"We're always looking for ways to improve our impact on the communities within which we operate. These new vehicles are another step in the right direction," says Floyd Bristol, vice president of automotive for UPS Canada. "CNG emits six to 11 percent lower levels of greenhouse-gas emissions than gasoline throughout the fuel lifecycle."
In collaboration with utility FortisBC Energy Inc., UPS has added a custom-built CNG fueling station in Vancouver, British Columbia.
"As an environmentally conscious business, UPS Canada has taken the initiative to reduce its carbon footprint and lower fueling costs by choosing natural gas," says Roger Dall'Antonia, president and CEO of FortisBC. "This is the first Canadian province that UPS Canada chose to enter with natural gas vehicles because of the incentive funding provided by FortisBC, which assists with the purchase of new CNG vehicles, as well as our support in building and operating a fueling station. UPS Canada now joins numerous fleet owners and operators across North America making the switch to natural gas so they can save on fuel costs and shrink their environmental footprint."
"It's great to see UPS Canada and FortisBC as leaders in reducing greenhouse-gas emissions," says Michelle Mungall, British Columbia's minister of energy, mines and petroleum resources. "Putting new compressed natural gas vehicles on British Columbia's roads can help us reach our climate commitments. Our government continues to focus on clean energy alternatives that build an economy benefiting everyone."
Last week, UPS announced a $130 million commitment to CNG in the U.S.