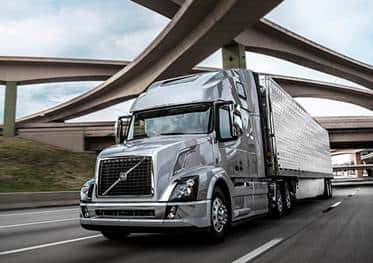 Volvo Trucks says its model-year 2016 VN series of heavy-duty tractors will feature new powertrain enhancements and aerodynamic-design elements in order to increase the trucks' fuel efficiency.
Central to the improvements is an XE-Adaptive Gearing package: 'a direct and overdrive driveline depending on rear axle load, which the system senses in real-time,' the company says. When loaded, the transmission locks out the 12th gear and provides the performance and fuel efficiency benefits of direct drive. During unloaded or lightly loaded trips, the driveline operates in overdrive, providing enhanced fuel efficiency. XE-Adaptive Gearing engine ratings will initially be available for Volvo's D11 and D13 engines paired with an I-Shift automated manual transmission.
Volvo Trucks is also offering three new torque control features designed to increase fuel efficiency, tire life and decrease driveline stress. The expanded offerings 'utilize Volvo's numerous multi-torque engine profiles to provide ideal torque management in multiple operating environments.'
In terms of aerodynamic enhancements, the truck's bumper, chassis and roof fairings have been designed to reduce air turbulence around the vehicle exterior and improve airflow under the truck, around tires and the trailer gap. Reducing turbulence and disruptions in airflow from the tractor to the trailer helps improve fuel efficiency.