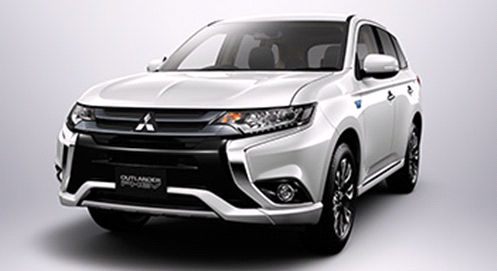 In its latest company announcement, Mitsubishi Corp. says it has secured a deal for the sale of 635 Outlander plug-in hybrid electric vehicles (PHEVs) to replace a portion of the current police car fleet in Ukraine.
The vehicles, manufactured by Mitsubishi Motors Corp. (MMC), will be sold through MMC Ukraine, a local distributor of MMC vehicles and spare parts.
According to the automaker, the 635 PHEV units are being purchased by the local police and will be delivered by July.
As reported, this move stems from an emissions trading agreement signed by a number of Japanese companies with the government of Ukraine. The decision to replace a portion of the government's current fleet of police cars with PHEVs is part of its policy to reduce CO2 and greenhouse-gas emissions using the Green Investment Scheme.
As reported, the Outlander PHEV features a 2.0-liter gasoline engine and three driving modes: EV, series hybrid and parallel hybrid.
EV Drive Mode is an all-electric function in which the front and rear motors drive the vehicle using only electricity from the drive battery. With zero on-road gasoline consumption and zero CO2 emissions, the driver can enjoy a quiet and eco-friendly performance for up to 33 miles.
In Series Hybrid Mode, the gasoline engine operates as a generator supplying electricity to the electric motors. The system switches to this mode when the remaining charge in the battery falls below a predetermined level and when more power is required, such as accelerating to pass a vehicle or climbing a steep gradient.
The system switches to Parallel Hybrid Mode when the vehicle reaches high speeds. In this mode, the high-efficiency gasoline engine provides most of the motive power, which is then assisted by the electric motors as required, such as when more powerful performance is needed to accelerate or climb a slope.
With a population of 45 million, Ukraine is one of the largest countries in eastern Europe and is expected to see notable economic growth over the medium to long term.