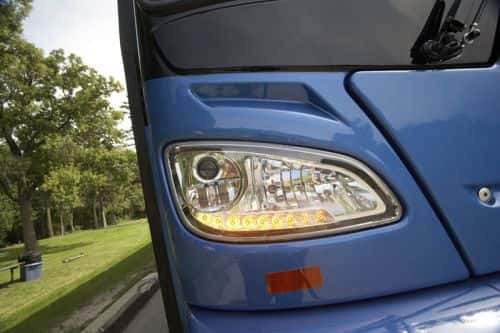 New Flyer of America Inc., a subsidiary of New Flyer Industries Inc., the largest transit bus and motor coach manufacturer and parts distributor in North America, says it has been awarded a contract to build 300 40-foot Xcelsior compressed natural gas (CNG) buses for Miami-Dade Transit.
According to New Flyer, the contract is part of a project launched by Miami-Dade County to replace 300 old diesel buses with new CNG vehicles.
New Flyer was selected to manufacture the heavy-duty transit buses and to provide aftermarket support to Miami-Dade County as part of a turnkey competition awarded to Trillium CNG to design, build, operate and maintain CNG fuel service stations; upgrade maintenance facilities; and supply CNG fuel to Miami-Dade Transit.
Although there are no options as part of this initial contract, Miami-Dade County may elect to add additional CNG buses in the future as part of the larger initiative.
"Our Miami-Dade County mayor, Carlos A. Gimenez, and our county commissioners have directed the Department of Transportation and Public Works to upgrade our Metrobus fleet with buses that are more sustainable and use greener fuel sources," says Alice N. Bravo, Miami-Dade County's department of transportation and public works director. "By upgrading our fleet with CNG buses, we're implementing a cost-effective approach to the reduction of our dependency on petroleum-based fuel and lowering our maintenance costs."
Wayne Joseph, president in transit bus business of New Flyer, says, "We are thrilled to be partnered with Trillium CNG on this very unique program (the first of its kind for New Flyer) to support the transformation of the Miami-Dade County transit bus fleet." He adds, "Miami-Dade Transit has been a longtime New Flyer customer, with currently more than 95 percent of its fleet are New Flyer, NABI and MCI vehicles."
New Flyer says the contract is valued at approximately $159 million and will be used to replace some of Miami-Dade's transit buses that have reached the end of their useful life. Delivery of these buses is planned throughout 2017 and 2018. Since 2010, Miami-Dade has been a customer of New Flyer, and with the completed delivery of this order, Miami will have 346 New Flyer buses in its transit fleet.
Miami-Dade Transit, the 15th-largest public transit system in the U.S. and the largest transit agency in the state of Florida, provides service from Miami Beach and Key Biscayne to West Miami-Dade; as far north as Broward County; and as far south as Homestead, Florida City and the Middle Keys.