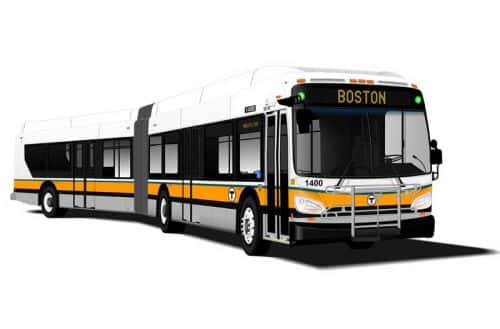 The Massachusetts Bay Transportation Authority (MBTA) says its fiscal and management control board has unanimously approved the purchase of 44 diesel-hybrid buses for its Silver Line and other high-volume bus routes.
The 60-foot-long buses will replace a fleet of existing compressed natural gas (CNG)-powered buses that began serving the Silver Line in 2003 and is approaching the end of its useful life.
'Delivery of the new buses will begin next summer and continue through the winter of 2016/17 until the 44th and final bus arrives,' explains MBTA General Manager Frank DePaola.
Under the approved contract, New Flyer Inc. will be paid $52.6 million to manufacture and deliver the low-floor buses, which will serve Silver Line-Washington St. and MBTA Bus Routes 39 and 28.
'The Silver Line is the MBTA's busiest bus route, providing direct service between Dudley Square and Downtown Boston' says DePaola. 'These new vehicles will help us ensure the delivery of reliable and safe service to thousands of daily bus riders.'
Image courtesy of the MBTA