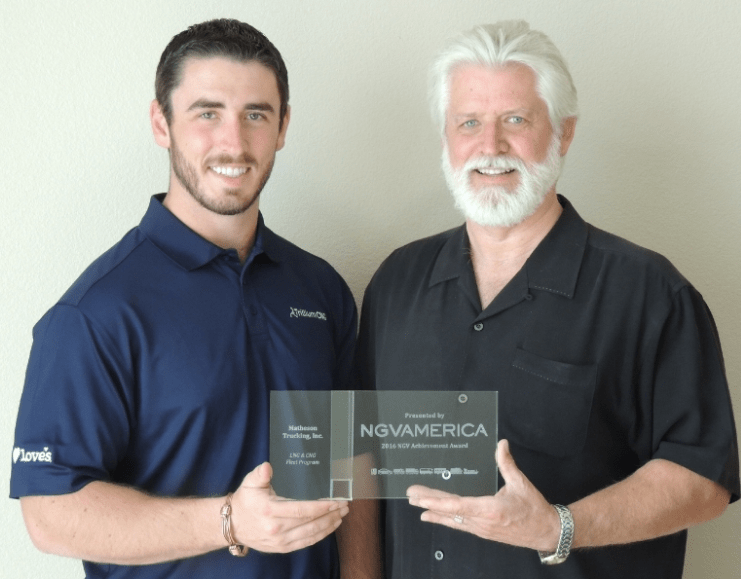 Sacramento, Calif.-based Matheson Trucking Inc. says it has received a Natural Gas Vehicles for America (NGVAmerica) achievement award for its ongoing fuel transition program involving both compressed natural gas (CNG) and liquefied natural gas (LNG) conversions of 37 truck tractors in the Matheson Postal Services division fleet.
The announcement came during the 29th annual North America NGV conference, expo and industry executive summit held at the Hyatt Regency Convention Center in Denver in September.
According to NGVAmerica President Matthew Godlewski, Matheson Trucking Inc. is now among a select group of leaders that have had the greatest impact on advancing the NGV industry.
"These awards provide an important opportunity to recognize the contributions and accomplishments of these leaders. The vision, leadership and hard work of this year's recipients have had a significant impact on the advancement of the natural gas vehicle industry and is helping others to realize the environmental and economic benefits of using clean-burning natural gas as a transportation fuel."
Mark Matheson, CEO and president of Matheson Trucking, commented, "It is indeed an honor for us to be singled out for special mention among such a large number of trucking firms across the U.S. for this distinguished award in recognition of our ongoing program to convert a significant portion of our fleet to clean, energy-saving and fuel-efficient natural gas.
"We are dedicated to improving air quality, as well as being in a position to meet Environmental Protection Agency requirements, by lowering greenhouse-gas emissions in the states where we operate by decreasing diesel fuel consumption on routes we serve," he added.
Matheson Trucking Inc.'s Joshua Matheson, vice president of operations, and Mark Matheson, company CEO and president, with the NGVAmerica achievement award.