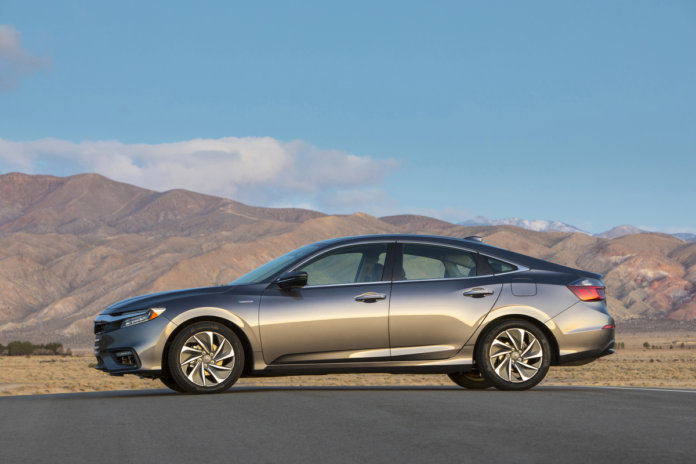 This week, Honda celebrated the start of mass production of the all-new 2019 Honda Insight hybrid. The manufacturing launch represents a $61.5 million capital investment in Indiana and Ohio for the production of the latest in Honda's growing portfolio of electrified vehicles.
Honda previously announced its intention that two-thirds of its global auto sales would be electrified by around 2030. Under this Honda Electrification Initiative, the company plans to introduce electrified powertrains to virtually all of its core models in the years ahead.
"The new Honda Insight exemplifies our growing investment in the production of electrified vehicles in America, and our associates in Indiana are proud to play a key role in this initiative," says Isao Matsuzaki, president of Honda Manufacturing of Indiana (HMIN).
HMIN will build all Insight models for the North American market; the company has invested $32.5 million to support production of the new vehicle.
In addition, three Ohio plants contribute the Insight's powertrain. Honda Transmission Manufacturing of America in Russells Point, Ohio, has invested $29 million for production of the Insight's twin electric motor unit, which is the heart of the Insight's gas-electric hybrid powertrain. The Insight's hybrid battery pack is assembled at the company's Marysville, Ohio, auto plant, where Honda also produces the just-launched 2019 Accord Hybrid. The Insight's 1.5-liter Atkinson-cycle gasoline engine is produced at the company's Anna, Ohio, engine plant.
Among the changes made to the Indiana plant for Insight production is a new 19,200-square-foot building expansion to accommodate in-house subassembly of the vehicle's front-end module. The new Insight marks the first time the Indiana plant is subassembling the front-end module in-house. Other new processes for Insight include the installation of electrified vehicle systems, such as high-voltage wiring, the battery unit and power control system.
HMIN will now produce the Insight, Civic and CR-V on the same production line. From April 2012 to November 2014, the plant was also the exclusive manufacturing home for the Acura ILX hybrid, which was transferred to Marysville, Ohio, in 2015. HMIN also previously produced the Civic Natural Gas – at the time, the only mass-produced natural gas-powered passenger car in America.
The 2019 Honda Insight is launching at Honda dealerships nationally early this summer. The Insight is the fifth electrified Honda model launched in the past 18 months, following the introduction of the Clarity Series – Clarity Fuel Cell, Clarity Electric and Clarity Plug-In Hybrid, as well as the 2019 Accord Hybrid.
We're proud of our associates at @HondaIndiana who are leading the global production for the #HondaInsight. pic.twitter.com/yyljdTosfL

— Honda In America (@HondaInAmerica) May 16, 2018