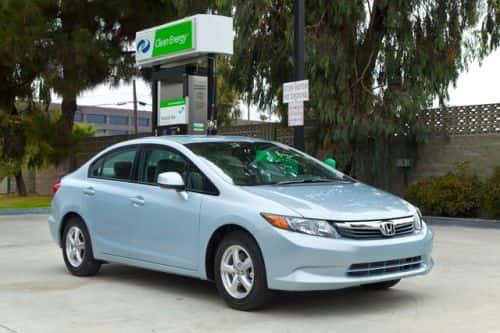 Honda has announced that it will no longer offer its compressed natural gas (CNG)-powered Civic, leaving some to wonder what significance this decision might have regarding the overall U.S. natural gas vehicle (NGV) industry. The manufacturer also will discontinue its Civic Hybrid model.
John Mendel, executive vice president of American Honda Motor Co. Inc.'s automobile division, released a statement explaining the company's decision.
He says that rather than offering alternative fuel versions of the Civic, the company is focusing on advancing the car's fuel efficiency with conventional engine technology. Honda will launch an all-new Civic this fall featuring downsized gasoline engines, including a turbocharged, direct-injected model. According to Mendel, these new Civics are expected to have a U.S. Environmental Protection Agency (EPA) highway fuel economy rating of over 40 mpg.
Mendel says Honda will stop offering both the Civic Natural Gas and the Civic Hybrid with the end of the 2015 model year. Honda has already ceased production of the NGV at the company's Indiana plant, but Mendel says the firm will "continue to provide a high level of service to our existing customers through CNG-certified Honda dealers."
"Honda has promoted CNG-powered vehicles for many years," he notes. In fact, the company's Civic Natural Gas was the only OEM CNG offering in the passenger-vehicle class for the North American market until GM announced its 2015 bi-fuel CNG Chevy Impala.
Nonetheless, Mendel cites two main reasons for scrapping the Civic Natural Gas: low consumer demand and a lack of refueling infrastructure.
Sam Abuelsamid, a senior analyst at Navigant Research, tells NGT News sales of the CNG model "have indeed plummeted."
He attended a Honda briefing Monday morning, and he says the manufacturer has sold a little more than 16,000 Civic Natural Gas cars in the U.S. since the model was introduced in 1998. According to Abuelsamid, Honda sold only 751 Civic CNG models in 2014 – a 66% drop from 2013.
"The CNG Civic has never been a strong seller, hampered by a high price ($26,740 for 2015, $8,200 more than a base Civic) and compromised packaging because the CNG tank takes almost all the cargo space," he says. "With the gasoline Civic getting nearly 40 mpg highway and low gasoline prices, it's difficult to make a value proposition for CNG."
Abuelsamid also agrees with Mendel that a lack of public CNG stations was a tough challenge for the adoption of the Civic Natural Gas.
"Public refueling infrastructure will likely remain limited for the foreseeable future in the U.S. due to a relative lack of demand for light-duty natural gas vehicles, particularly cars," says Abuelsamid.
"More than half of natural gas stations in the U.S. are private for fleet use, and that is unlikely to change," he continues. "Virtually all growth in NGVs here will be in full-size pickups, vans, and larger trucks and buses, where packaging is less of an issue and higher annual mileage accumulation shortens the payback period."
According to the U.S. Department of Energy's Alternative Fuels Data Center, the country is home to about 840 public CNG stations. That number jumps to over 1,500 when you include private stations.
The big question, then: What does Honda's decision to discontinue its CNG car mean for the U.S. NGV market?
"It mainly reflects a rejection of NGV passenger cars, which don't make economic sense in the American market," claims Abuelsamid. "As long as gasoline prices remain relatively low and gasoline, diesel and hybrid vehicles continue to get more efficient, consumers will not be willing to spend so much more for an NGV or a home refueling appliance."
Back in January, a Forbes article implied that the dive in sales of Civic Natural Gas models proved there was a major disinterest in NGVs among consumers. However, as NGT News pointed out, the piece did not address the fact that consumers also buy a wide variety of factory-built or gaseous-prepped light-duty pickup trucks, as well as aftermarket NGVs.
To some, the future of light-duty NGVs in the U.S. may appear uncertain, but Abuelsamid notes, "For larger vehicles, natural gas remains a viable alternative, especially for those that return to base daily and can fuel up from a private filling station."
Matthew Godlewski, president of NGVAmerica, maintains optimism and suggests the end of the CNG Civic does not, by any means, signal an end to NGV adoption in the U.S.
"The natural gas vehicle market has grown tremendously since the introduction of the Civic more than 15 years ago," he says in a statement. "Today, there are more vehicle offerings and fueling stations than ever before."
To highlight the growth of NGVs in the U.S., NGVAmerica notes a recent Texas report showing that sales of natural gas as a transportation fuel in the state rose a whopping 78% over last year. In addition, IHS recently forecast significant growth for natural gas as a fuel in the global heavy-duty transportation sector.
"We'll miss the Civic, but as more businesses increasingly adopt clean-burning natural gas into their medium- and heavy-duty fleets, the infrastructure development behind this growth will eventually support the broader expansion of the light-duty market," concludes Godlewski.
Regarding the death of the Civic Hybrid, Abuelsamid says, "As with the CNG model, with low gas prices and a high purchase premium, there is not enough demand to justify continuing this model."
In his announcement, Mendel notes that although Honda will no longer offer natural gas vehicles, the company remains committed to its "vision for more sustainable mobility" and also plans to focus on advancing electrified vehicles.
"We are developing an entirely new generation of vehicles starting from the introduction in 2016 of our next-generation fuel cell vehicle," explains Mendel. "This will be followed by an all-new battery electric model and [an] all-new plug-in hybrid model."