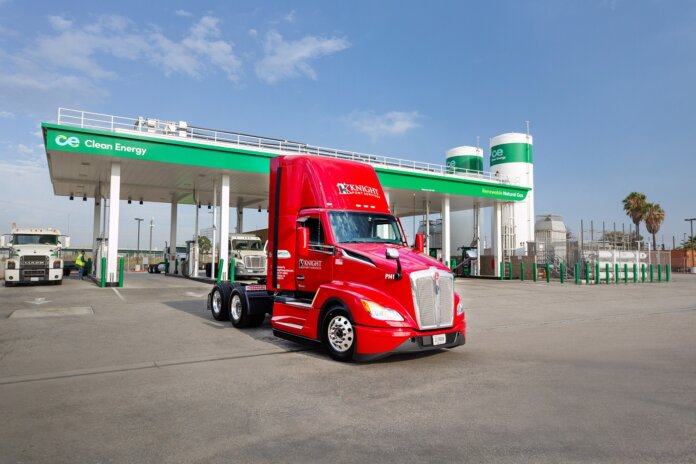 Knight Transportation Inc., the industry's largest full truckload company, says it has been successfully testing Cummins' new X15N natural gas engine in Southern California.
The truck is fueled exclusively with Clean Energy Fuels Corp. ultra-low-carbon renewable natural gas (RNG) from Clean Energy's station in Carson, Calif.
"We value our collaboration with Cummins and are encouraged by what we have seen so far with the 15L renewable natural gas technology," says Knight-Swift's Dave Williams. "We will continue to work together to make sure that the capabilities and economics associated with this technology allow us to meet the wide-ranging needs of our fleet."
Williams notes that Knight Swift's goal is to reduce CO2 emissions generated from the KNX fleet by 50% by 2035.
"The suite of integrated Cummins technologies used on these trucks – from engine, aftertreatment and fuel storage to transmission, axles and the digital features that pull them all together in their most optimized form – demonstrates the value of our next generation of products," says Cummins' José Samperio.
The field testing with Knight-Swift will continue through full production of the X15N powertrain in 2024.