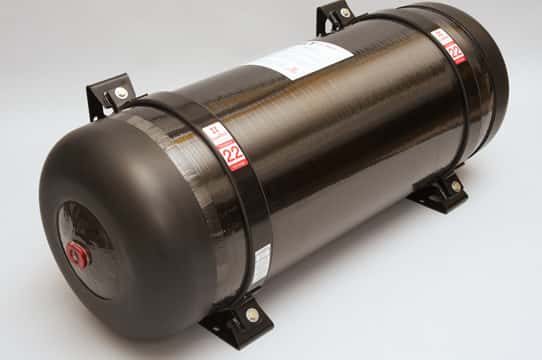 Luxfer Gas Cylinders, a manufacturer of high-pressure aluminum and composite cylinders, says it has officially launched its second generation of G-Stor Go Type 4 carbon composite cylinders for alternative fuel containment at the sixth annual ACTExpo in Long Beach, Calif., on May 2-5.
According to Luxfer, its new GEN2 G-Stor Go cylinders provide a 9% volume increase of compressed natural gas (CNG) in terms of diesel gallon equivalents (DGEs) and a 15% weight savings compared with the company's first-generation Type 4 AF cylinders. When compared with conventional competitive hybrid carbon-fiberglass cylinders, the DGE volume improvement increases to 14% and the weight savings grows to 30%.
Per company specifications, cylinder diameters from 22 inches to 27 inches are available; cylinder lengths range from 40 inches to 140 inches, the longest Type 4 fuel cylinder in the industry. Luxfer says that GEN2 cylinders feature a new polymer liner and patented boss design that provide the highest level of liner performance and gas retention.
Luxfer recently began shipping new GEN2 cylinders to its customers that serve the trash truck, class-8, heavy-duty truck and medium-duty truck sectors.
"We're excited that our long-term development and investment related to our new GEN2 range are complete and that we can now offer the extra volume and weight savings that our customers need to optimize performance of their CNG systems," says Mark Lawday, Luxfer's alternative fuel business development director. "Feedback about these new products has been very positive."
Lawday notes that GEN2 cylinders are equipped with Luxfer's proprietary G-Flo valves that enable faster filling and provide more usable gas. "The combination of our higher-volume, lighter-weight cylinders and our unique valve technology should help relieve end user 'range anxiety' about CNG-powered vehicles," he comments.
GEN2 G-Stor Go cylinders are manufactured at the Luxfer plant in Riverside, Calif.