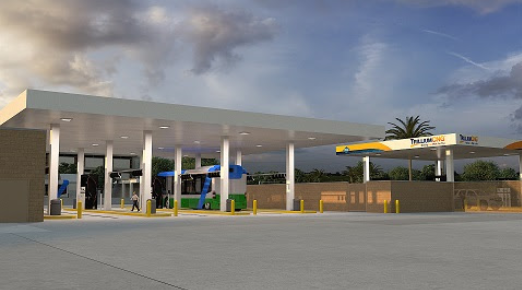 In its latest company announcement, Love's Trillium CNG, part of the Love's Family of Companies, has finalized an agreement to bring two compressed natural gas (CNG) facilities to south Florida.
The stations will be the only CNG locations in Miami-Dade County, according to the Alternative Fuels Data Center.
Under the county-awarded contract, the company will design, build and maintain the CNG facilities; upgrade maintenance facilities; and procure 300 CNG buses for the county's public transportation system.
"This is easily one of the most innovative public-private collaborations we've undertaken with a transit agency," says Bill Cashmareck, director of Trillium CNG. "The combination of providing buses; designing, building and maintaining the CNG systems; upgrading maintenance facilities; and constructing new fuel and wash buildings demonstrates the breadth of our services. Our goal is to simplify sustainability, meaning that we'll take care of the details, which allows our customers, like Miami-Dade County, to focus on offering the best level of service to their customers, while running on clean fuel."
The stations will serve approximately 250 Miami-Dade County buses each.
Trillium has contracted with New Flyer of America Inc., a subsidiary of New Flyer Industries Inc., to provide the first 300 CNG buses. The 40-foot Xcelsior CNG buses will be delivered throughout 2017 and 2018. The agency says it may add CNG buses in the future.
The Miami-Dade County Metrobus system provides service along 95 bus routes that travel 29 million miles per year throughout the county, including parts of Broward County and the Middle Keys. County officials say the agreement will help them reach their goals of meeting the transportation needs of their customers, while increasing sustainability.
"As mayor, it's my responsibility to seek the best-possible future for our children and grandchildren from both a financial and environmental perspective, and I believe compressed natural gas and renewable natural gas for our county's buses will move us towards that goal. After much consideration and research, the Miami-Dade Board of County Commissioners and I felt Trillium CNG was the best company to help move us toward a more sustainable future, and we're pleased to partner with them," says Carlos Giménez, mayor of Miami-Dade County.
Both locations will have separate fueling islands for the public, including light- and heavy-duty trucks. Construction on the first facility, located at 3300 N.W. 32nd Ave., is slated to begin later this year and open early next year. Construction on the second station, located at 2775 S.W. 74th Ave., is scheduled to start this winter and be open by summer 2018.
Trillium will provide the fuel for both stations. A minimum of 20% of the energy will be from renewable natural gas, which will greatly reduce the greenhouse-gas emissions for the project. The company says the agreement also includes CNG-related updates to existing transit maintenance, new fueling buildings, bus washes, and a 10-year operation and maintenance agreement.
Love's Travel Stops currently operates 13 travel stops in Florida, with additional locations in Moore Haven, Bushnell and Lake Wales scheduled to open this year. Trillium operates five CNG facilities in the state, two of which it owns.