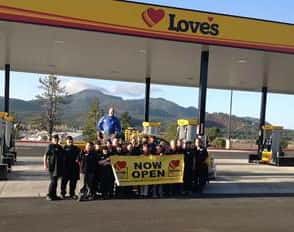 A new Love's Travel Stop has opened in Williams, Ariz., located off exit 163 on Interstate 40. The facility will be equipped with fast-fill compressed natural gas (CNG) capacity later this year, the company says.
'Love's is committed to serving professional drivers, and this location fills a gap in Love's network of locations in Arizona and along Interstate 40,' says Greg Love, co-CEO.
The company's Williams location features 91 parking spaces for big rigs, along with seven showers, a Love's Truck Tire Care center, RFID cardless fueling and CAT scales.