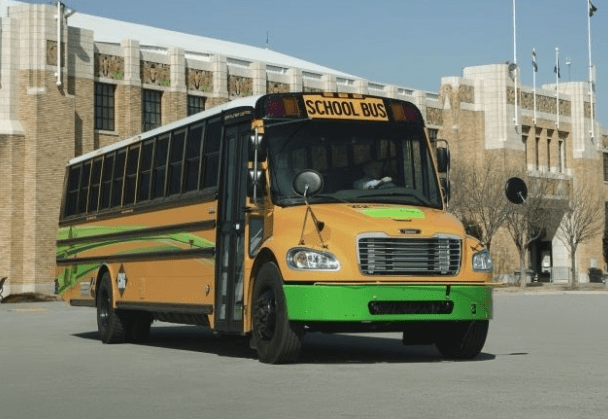 Los Angeles Unified School District (LA Unified), the second-largest school district in the country, has purchased 71 Saf-T-Liner C2 compressed natural gas (CNG) school buses from Thomas Built Buses.
With the purchase of these new buses, LA Unified becomes the latest in a growing number of districts incorporating Type C CNG school buses in their fleets.
In 1994, LA Unified implemented a long-term replacement strategy to decrease its environmental impact and refresh its older fleet of buses. Through a $300,000 grant from the California Energy Commission, the district has been replacing many of its older buses with CNG units and updating its CNG infrastructure.
Currently, LA Unified operates 1,300 school buses – more than half of which run on alternative fuel, which includes 475 CNG, 100 ultra-low emission and 126 propane buses. As reported, the district says it has the largest fleet of CNG-powered school buses in the U.S., operating CNG fueling stations on San Julian Street and Gardena and one in Sun Valley.
"LA Unified has made great strides over the past few years by incorporating alternative-fueled vehicles into their fleet. The addition of Thomas Built's Saf-T-Liner C2 CNG school buses paves the way for other school districts to deploy Type C CNG buses into their own fleets," says Caley Edgerly, president and CEO of Thomas Built Buses. "LA Unified trusts CNG, and we are proud that they've chosen Thomas Built Buses as their supplier."
According to Thomas Built Buses, the new Saf-T-Liner C2 CNG utilizes the Cummins Westport ISB6.7 G, 6.7-liter natural gas engine and an Allison 2000 series transmission. It is California Air Resources Board (ARB)-certified; meets ARB's optional low oxides of nitrogen standard of 0.1 g/bhp-hr; and meets U.S. Environmental Protection Agency (EPA) 2016 emissions and 2017 EPA greenhouse-gas requirements.
Thomas Built introduced its first CNG bus nearly 20 years ago. Today, Thomas Built offers the new Saf-T-Liner C2 CNG, along with other green fuel options, including the Saf-T-Liner C2, Saf-T-Liner HDX, Saf-T-Liner EFX, Minotour, Saf-T-Liner C2 Propane, Saf-T-Liner HDX CNG, Minotour Propane, and Minotour CNG.