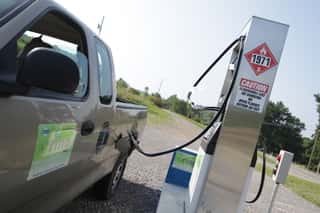 Several companies in the Brookville, Pa., area are uniting to apply for grant funding to convert their fleets to compressed natural gas (CNG) and to support a new CNG refueling facility on Allegheny Blvd. Lindemuth Excavating, Lindy's Bus Line and Williams Sanitation Services are jointly applying for funding under the state Department of Environmental Protection's Natural Gas Vehicle program, which opened on Dec. 1.
The program, funded through the Marcellus Shale Legacy Fund, seeks to replace as many gallons of diesel fuel and gasoline with natural gas as possible by converting or replacing conventionally fueled vehicles with natural gas vehicles (NGVs). The grants are intended to support CNG projects that will, in turn, help bolster the natural gas industry in Pennsylvania, reduce particulate emissions from the transportation sector and reduce dependence on foreign oil.
The new CNG fueling station, which is set to open in the spring of 2013, is owned and operated by 'O' Ring CNG Fuel Systems LP, a local company from Coolspring, Pa. The natural gas infrastructure will cost approximately $1.5 million to install.
As a locally produced fuel, CNG is much more cost-effective to produce and, therefore, equates to savings at the pump for consumers. NGV operators can expect to see a savings of 30% to 50% on their fuel costs. CNG is also a significantly cleaner-burning fuel than gasoline or diesel, emitting 30% to 70% less particulate emissions than traditionally fueled vehicles.
'I think it's important to provide the cleanest, safest transportation for our youth as possible,' said Denny Lindemuth, president of Lindy's Bus Line. 'CNG-powered vehicles not only run cleaner, but are also safer than diesel-powered buses, because CNG simply vents off into the atmosphere in the case of an accident, rather than pooling, like liquid fuels.'
John Williams, president of Williams Sanitation Services, noted that his company conducts hauling services for the natural gas industry, and he is happy to support that industry by expanding the CNG fueling sector. Using CNG as a vehicular fuel creates a way to bring more Pennsylvania natural gas to market, thereby supporting Pennsylvania companies all along the supply chain.
Station provider 'O' Ring CNG is not eligible for grant funding, but president and owner Bob Beatty is excited to see local companies coming together to make projects like these successful.