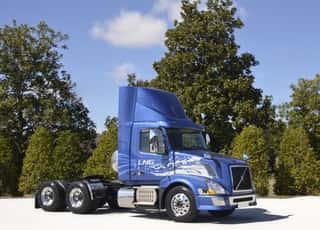 Volvo Group has mobilized two of its key companies, Volvo Trucks and Mack Trucks Inc., to partner with energy and petrochemical giant Shell on driving liquefied natural gas (LNG) usage in the heavy-duty commercial vehicle sector.
Shell and Volvo have hefty global footprints, and the non-exclusive partnerships will ultimately extend into various markets worldwide. But the initial push, according to Volvo Trucks, is in 'selected markets in central Europe and in the United States.'
Both Mack and Volvo Trucks North America have confirmed with NGT News that they will be focusing their work in the North American market, mainly the U.S.
Mack's TerraPro refuse trucks have been available in compressed natural gas (CNG) configurations since 2009, and the Class 8 Pinnacle recently made its debut with an LNG fuel system. Mack's Granite vehicles, which are tailored to construction applications, will also be available with natural gas power. Both the Pinnacle and Granite will feature the 11.9-liter Cummins Westport ISX12 G spark-ignited natural gas engine.
A big announcement for Volvo was news that the company was developing its own 13-liter diesel-ignited natural gas engine, tailored specifically to run on LNG. That power plant, which will complement CNG models of the Volvo VNM and VNL daycabs, is scheduled for commercial launch in North America next year.
In Europe, the heavy-duty Volvo FM MethaneDiesel truck will bring a bi-fuel LNG/diesel option to predominantly regional-haul applications. The FM MethaneDiesel is being offered in the U.K., Spain, the Netherlands, Sweden, Norway and Belgium today, and it will be available in France and Italy soon.
Shell, of course, brings immense LNG market penetration and expertise to the table. In terms of LNG use in transportation specifically, major developments have included the company's partnership with TravelCenters of America (TA) – announced last year – that is aimed at putting more than 200 LNG fueling lanes at TA locations in the U.S. Shell is already supplying LNG to fleets in North America, such as the Peterbilt/Westport HD units that Bison Transport is running in Canada. These Class 8 LNG trucks are mainly refueling at Flying J centers.
And earlier this month, Shell said it was planning on building a pair of natural gas liquefaction units designed primarily to serve transportation-segment demand for fuel. One site will be in Canada and the other in Louisiana.
So what, exactly, will Shell, Volvo and Mack be working on? In short, each company has its eye on the prize – more LNG in transportation – and will leverage its own core competencies to hasten market development.
'Our collaboration covers primarily fuel specifications, emissions regulations and optimization of the development of infrastructure of LNG,' says Roy Horton, Mack's alternative fuel and driveline marketing product manager. 'We have a governance committee that meets on a regular basis, and we schedule special work groups on an as-needed basis.'
Photo courtesy of Volvo Group