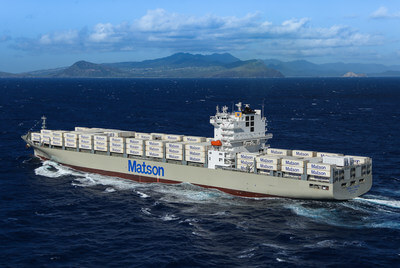 Four new ships being built for Matson Inc., a U.S. carrier in the Pacific, will feature dual-fuel engines that can be adapted to use liquefied natural gas (LNG).
Last week, Matson welcomed the first of four new ships in Honolulu. They will be introduced in the company's Hawaii service over the next two years.
Named in honor of Hawaii's late senior U.S. senator, the Daniel K. Inouye – which was christened earlier this year – is the largest containership ever built in the U.S., according to Matson. Weighing in at over 51,400 metric tons, the 850-foot long vessel is also Matson's fastest, with a top speed in excess of 23 knots.
All four new vessels will incorporate a number of features designed to help protect the environment, including the dual-fuel engines, a more fuel-efficient hull design, environmentally safe double hull fuel tanks, and freshwater ballast systems.
"These new ships are the future for Hawaii shipping and will bring a new level of efficiency and reliability to our service," says Matt Cox, chairman and CEO of Matson. "The substantial investment in new technology underscores Matson's long-term commitment to Hawaii and our desire to serve the Islands in the most advanced, environmentally friendly way for years to come."