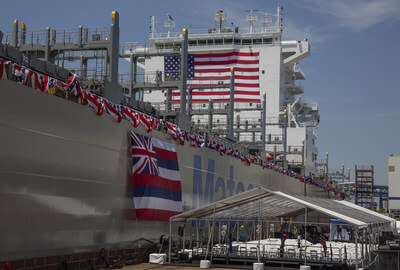 Built with engines compatible with liquefied natural gas (LNG), the Daniel K. Inouye vessel – what U.S. carrier Matson Inc. calls the largest containership ever built in the U.S. – was recently christened in Philadelphia.
On June 30 at the Philly Shipyard, Matson and Philly Shipyard Inc. christened the Aloha Class vessel, named in honor of Hawaii's late U.S. Sen. Daniel K. Inouye. Notably, the containership incorporates dual-fuel engines that can be adapted to use LNG, double hull fuel tanks, fresh water ballast systems and a more fuel efficient hull design, according to Matson.
Weighing in at over 51,400 metric tons, the 850-foot-long ship has a top speed of nearly 24 knots, helping ensure on-time deliveries in Hawaii from Matson's three West Coast terminals in Seattle, Oakland and Long Beach. It is the first of two new ships being built for Honolulu-based Matson by Philly Shipyard at a total cost of approximately $418 million for the pair.
"This is a proud day for all of us at Matson," said Matt Cox, Matson's chairman and CEO, at the shipyard ceremony. "Over our first 136 years, Matson's fleet has evolved from sailing ships to larger steamers to diesel power, consistent with changes in technology and always evolving in step with the needs of a growing Hawaii economy.
"This new vessel, designed specifically to serve Hawaii and built with LNG-compatible engines, is the next generation of vessel and sets a new standard for cargo transportation in Hawaii," he continued. "It also symbolizes Matson's continuing commitment to serving our island home in the most efficient, effective and environmentally sound way into the future."