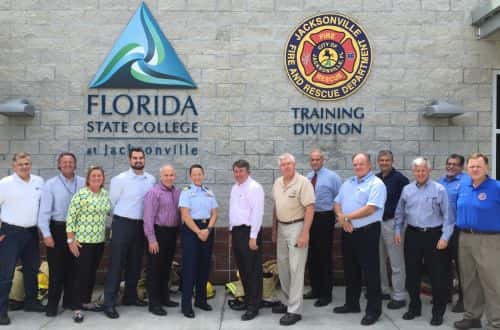 Last week, the Gas Technology Institute (GTI), in conjunction with the Florida State College at Jacksonville Fire Academy of the South (FAS), trained more than 150 stakeholders and first responders in liquefied natural gas (LNG) awareness.
GTI says the training was developed specifically for Port of Jacksonville, Fla.-area stakeholders, especially local first responders, and included firefighters from the Jacksonville Fire Rescue Departments, the U.S. Coast Guard Sector Jacksonville and area law enforcement.
The training program was funded by a collaboration of companies currently participating in LNG projects, including TOTE's Sea Star Line, JaxLNG, (a partnership of WesPac Midstream LLC and Pivotal LNG), the Florida East Coast Railway, Crowley Maritime Corp., and Eagle LNG Partners.
TOTE's Sea Star Line will take delivery of the first LNG-powered container ship this year, which will call on the Port of Jacksonville. JaxLNG is building the facility in Jacksonville that will provide LNG to the Sea Star Line and other LNG-fueled vessels. Eagle LNG Partners is developing a natural gas liquefaction facility and terminal in the Port of Jacksonville that will produce LNG for export and occasional domestic use, pending federal authorization. Florida East Coast Railway is considering LNG as both a cargo and a fuel as part of its strategic planning process. Crowley Maritime is supplying LNG to Puerto Rico via barge and will take delivery of two container/roll-on roll-off vessels in 2017.
Furthermore, FAS, which provides training and educational opportunities to emergency responders in the public and private sectors, will construct an LNG firefighting facility at its location in 2016, sponsored by members of the LNG collaborative.
According to GTI, the Jacksonville Marine Transportation Exchange – the maritime trade organization that coordinates the safe, secure and environmentally responsible management of the marine transportation system within the Port of Jacksonville – worked closely with U.S. Coast Guard Sector Jacksonville in seeking out potential members of the collaborative and garnering support from representatives of the local Area Contingency Planning community.Â
Photo courtesy of the Gas Technology Institute