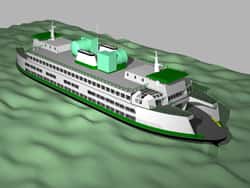 The Washington State Department of Transportation is working with Norway-based risk management firm DNV to examine the potential for converting Washington State Ferries' (WSF) vessels to run on liquefied natural gas (LNG).
Through a request-for-proposals process, WSF selected DNV to specifically handle the safety and security plan, risk assessment and operational manual for its LNG conversion project. WSF – the biggest ferry operator in the U.S. and the third biggest in the world – has been pursuing the LNG initiative for several months.
WSF's initial quotes have pegged the delivered price (via tank truck) of LNG to its vessels as $0.75/gallon. This compares to a current price of diesel of approximately $3.34/gallon (as of late January). WSF says it consumes more than 17 million gallons of fuel annually, representing 30% of its operating budget. A switch from diesel to LNG would yield fuel cost savings of 40% to 50% percent at today's pricing.
LNG also offers significant emissions improvements: an approximately 100% reduction in particulate matter and sulfur oxides, 80% reduction in nitrogen oxide and 20% reduction in carbon dioxide.
WSF says it has received 'conceptual approval' from the U.S. Coast Guard to convert six Issaquah Class ferries to LNG. A request for proposals for these retrofits has been issued, and WSF estimates that the cost of the six conversions will be approximately $75 million. The payback period will be about seven years, and WSF says the vessels will remain in service for up to 30 years.