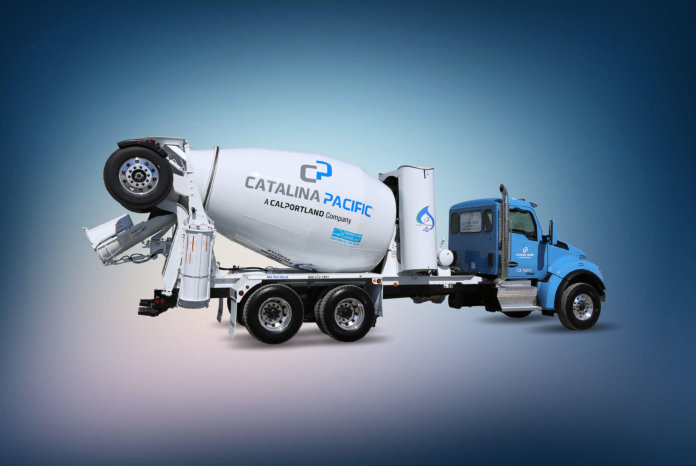 On Monday, Catalina Pacific, a CalPortland company, announced the official launch of its compressed natural gas (CNG)-powered concrete mixer truck fleet, which is expected to reduce greenhouse gas (GHG) and smog-causing emissions in Southern California.
The company commissioned 118 new "Near-Zero Emission" concrete mixer trucks to be in operation by the end of 2017. Fifty-two of the new trucks are currently serving the market in the greater Los Angeles area. The announcement was made at the Los Angeles Memorial Coliseum, which was built nearly 100 years ago with the help of Catalina Pacific.
"The Los Angeles Memorial Coliseum is an historic setting for the official launch of our CNG fleet," said Allen Hamblen, president and CEO of CalPortland. "Catalina Pacific provided the original concrete in the 1920s for the construction of this iconic stadium with our innovative mixer trucks. We provided the concrete for the construction of many new venues when the Olympics returned to Los Angeles in 1984. We are poised to serve the City of Los Angeles once again with this new 'clean fuel' technology as the Olympics return to Los Angeles in 2028."
"Catalina Pacific's transition to a fleet of compressed natural gas-fueled low-NOx engine mixers contributes to the attainment of greenhouse gas and NOx reduction goals set forth by the California legislature, the California Air Resources Board, and other regional and local agencies," added Hamblen. "By selecting engines fueled by natural gas over diesel, Catalina Pacific continues to demonstrate our ongoing commitment to the environment, community, and the safety of our employees."
"Nearly 100 years ago when Catalina Pacific was helping build the coliseum, we did not see that air pollution and climate change would be one of the biggest threats to our existence," said California State Sen. Ricardo Lara, D-Bell Gardens. "As the California legislature commits to build more homes and fix our roads, it is great to see a company like Catalina Pacific being a partner in the drive to clean truck technology."
According to Catalina Pacific, Kenworth's T880S mixers containing the ISL G Near Zero Cummins Westport 9L Engine reduces GHG emissions by 15% and NOx emissions by 90% (compared to a 2010 diesel engine). The 8.9 liter ISL G Near Zero is also compatible with renewable natural gas (RNG), which allows for further reductions in GHG emissions, and is noticeably quieter than a diesel engine.
Furthermore, Catalina Pacific says the Kenworth T880S with the ISL G Near Zero emissions engine offers excellent payload capacity and maneuverability, due to its optimized set-forward axle layout.
McNeilus partnered with Kenworth to provide its 10-1/2 yard Bridgemaster Transit mixer body and the company's NGEN twin vertical CNG system – which offers a low-profile back-of-cab configuration – for the T880S mixers.
Catalina Pacific's "clean fleet" vehicles will initially refuel at stations operated by Redeem by Clean Energy providing renewable natural gas (RNG) fuel made entirely from organic waste. The fuel is derived from biogenic methane that is naturally generated by the decomposition of organic waste at landfills and agricultural waste sources. Catalina Pacific is also building privately owned fueling stations at two plant locations. These fueling stations are being developed by OZINGA Energy and are scheduled to begin operation in January 2018.